Max Scherzer vs. Chris Sale: What's in a win-loss record?
Max Scherzer is 13-1. Chris Sale is 6-8. The difference? How much run support their teammates provide.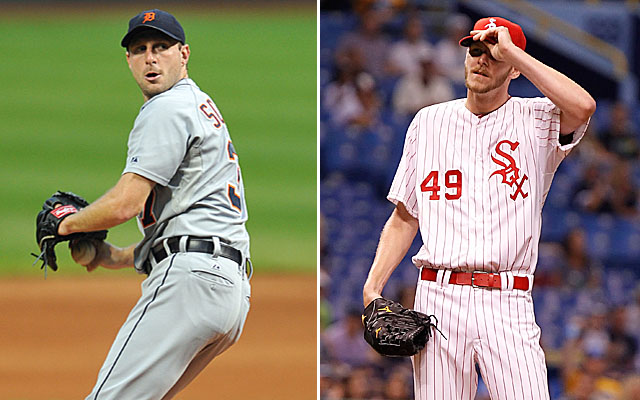 More MLB: Scoreboard | Standings | Probable Pitchers | Sortable Stats | Odds
Tigers starting pitcher Max Scherzer is having an excellent season and is starting the All-Star Game. He's a worthy starter to the midsummer classic, as he is 13-1 with a 3.19 ERA, 0.98 WHIP and 152 strikeouts in 129 2/3 innings for a division leader.
Still, if you ignore win-loss record and look at the stat lines side by side, White Sox starting pitcher Chris Sale is only having a worse season because his team doesn't score as many runs for him.
Sale, 24, has a 2.85 ERA, 1.01 WHIP and 131 strikeouts in 120 innings. Of course, thanks to playing for a bad White Sox team, his record is only 6-8.
There you have it: 13-1 vs. 6-8 in two outstanding pitchers having otherwise statistically similar seasons. The difference is run support. Scherzer is second in the majors in run support, as his team has given him an average of 5.89 runs per game. Sale is dead last in the majors, as the White Sox are only giving him 2.76 runs per start.
So is that how we're judging pitchers after all these years? Scherzer's team gives him an average of three more runs per game than Sale's. How can Sale control this?
For what it's worth, Sale is still into the win-loss record.
"Winning and losing is everything in sports," Sale said Monday. "At the end of the day, you wanna win games. That's what you're sent out there to do. It's not even about yourself getting the win, it's your team getting the win."
And Sale definitely didn't want to take anything away from Scherzer when I noted that their stat lines were similar other than run support.
"I would never take anything away from Max," he said. "He's an awesome guy and an awesome pitcher and he deserves this. Him and Justin Verlander are probably the best 1-2 punch in the league."
Scherzer might well deserve to start the All-Star Game over Sale -- with the strikeouts and keeping guys off base, he has a great case -- but it's not because of win-loss record. Pitchers can't control what their teammates do at the plate, no matter how much so many pitchers want to continue to stress the record.
Keep it locked right here for everything you need to know about the world of baseball Tues...

There have been several racially charged incidents at Fenway Park this year

Washington's right fielders have sputtered offensively since Harper went down
The good news? Wichita still has a chance to win the series Tuesday night

The 2017 season is going to shatter the all-time collective home run record

Ferrell somehow avoided going to the ground