Max Scherzer won't talk contract during 2014 season
Max Scherzer is only signed with the Tigers for one more season. While there appear to be talks on an extension, Scherzer says he won't negotiate during the regular season.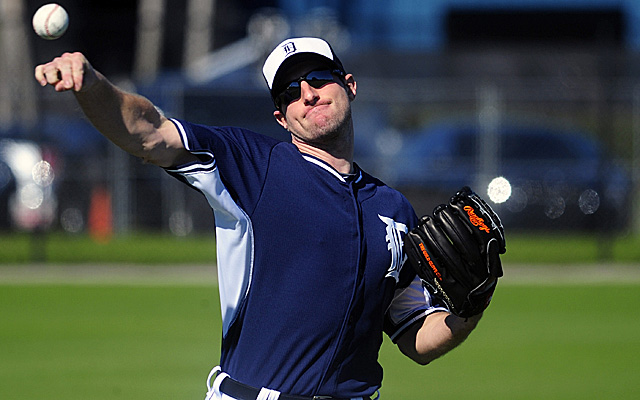 MORE: FA tracker: position players | FA tracker: pitchers
Call it a deadline, ultimatum or whatever you want, but 2013 AL Cy Young winner Max Scherzer will not discuss a contract extension with the Tigers once the 2014 regular season begins, he told reporters Friday.
"For me, now that I'm here in spring training, my focus right now is all about getting on the field and trying to win," Scherzer said. "If it's not done by Opening Day, then I'm not going to negotiate during the season.

"This can be a major distraction. I understand I have a chance to secure my future here with the team. I want that to happen. But at the same time, I'm not going to drag negotiations out into the season. That's unfair to the team, unfair to me and my teammates. They don't need to have that type of thought process going on."
Scherzer is set to make $15.53 million this season on a one-year deal in his final arbitration year. If he finishes the season without a contract extension, he's set to hit free agency for the first time in his career. Considering what we saw Scherzer do last season and what we're seeing top-flight pitchers get paid, he's looking at a nine-figure payday -- that is, unless disaster strikes this season.
Scherzer, 29, went 21-3 with a 2.90 ERA (145 ERA+), 0.97 WHIP and 240 strikeouts in 214 1/3 innings in the 2013 regular season. He also went 2-1 with a 2.82 ERA and 34 strikeouts in 22 1/3 postseason innings against the A's and Red Sox.
As for the Tigers, well, their future salary situation is relatively loaded. They owe Justin Verlander $28 million per season from 2015-19. Anibal Sanchez is set to make $16.8 million a season from 2015-17. They are paying $6 million a year to the Rangers (due to the Prince Fielder deal) from 2016 through 2020. Ian Kinsler is owed $41 million total through 2017 and Miguel Cabrera is only signed through 2015.
Assuming they want to extend Cabrera, which will take a pretty significant contract, for sure, fitting in Scherzer might prove pretty difficult.
As for a big-name free-agent-to-be saying he's open to staying but doesn't want to negotiate during the season, we've seen it twice recently precede a high-profile departure (Albert Pujols and Robinson Cano).
The coveted right-hander would certainly be a fit in Milwaukee

We rate the best mustaches from random baseball cards because, why not?

Colon wants to break a Dennis Martinez record
The Twins have been rumored to be interested in Darvish all winter

Rolen is one of the best third basemen of all time, but you wouldn't know it based on this...

Neither Josh Donaldson nor Brian Dozier have talked about a new contract extension