Maxing out: Scherzer is Tigers' greatest contractual challenge yet
Star pitcher Max Scherzer seems to have a cool businesslike approach to his contract situation, meaning the Tigers, who are fantastic at keeping their own, may have a tough time locking him up before Opening Day.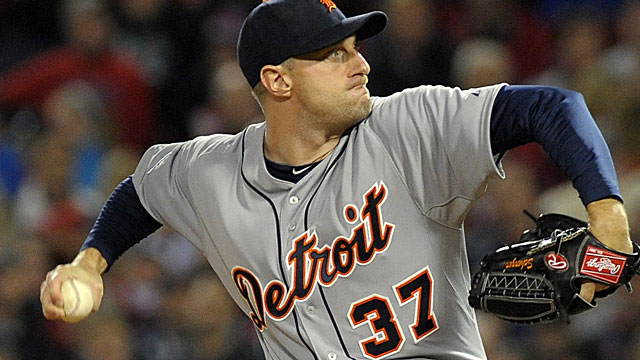 LAKELAND, Fla.  -- The Tigers have done as good a job as just about anyone in baseball of not only procuring great players, but in keeping them, too. To do so, they've overcome some obvious obstacles; Detroit isn't exactly a glamour city, and its baseball revenue can't compete with the Yankees, Dodgers, Cubs or many others.
Yet, with the expanding overall net worth via Detroit casinos and other entities and the win-first attitude of its owner warmly called Mr. I, a misleading moniker for baseball's most team-focused owner, the pizza and now casino king Mike Ilitch, the Tigers have managed to sign superstar pitcher Justin Verlander to not one but two huge contracts. Plus, they were able to sign hitting mega star Miguel Cabrera to one mega deal, and have solid hopes for making it two this spring. What's more, they managed to re-sign Anibal Sanchez, even after he became a free agent, securing him with the authorization for extra funds from Mr. I that their excellent baseball staff seemed reluctant to offer.
However, the Tigers may finally have their greatest contractual challenge yet in one Maxwell M. Scherzer.
The Tigers promise to try hard to sign the 2013 American League Cy Young winner before he hits free agency this winter, but this is an especially tricky case, thanks to a number of factors, most notably the stark upward trajectory of Scherzer's career and the cool business stance he's appeared to have assumed. Combine that with the fact that Scherzer is only months from free agency, and really only a month considering he declared upon arriving in spring training that he'd halt all talks with the start of the season to concentrate on baseball, and it appears a likely recipe for free agency.
No surprise, early indications are that locking him up won't be easy. There is said to have been little sign of common ground in previous confabs, with a major gap seen in preliminary discussions. Though the trend is that all teams lock up its ace pitchers, and Detroit's M.O. in this regime always has been to secure all its best players, it may take a late March miracle to keep Scherzer, 29, from becoming baseball's biggest free agent next winter.
The seemingly small chance Detroit had was cut further when Scherzer put together a 2013 season that can only be described as extraordinary, winning seven of eight decisions to go 21-3 while posting a 2.90 ERA striking out 240 batters, leading the league in WHIP (0.97) and holding opposing hitters to the lowest on-base percentage (.254) and  OPS (.583) and second lowest batting average to Yu Darvish (.198) and slugging percentage to Justin Masterson (.329). Scherzer's season was comparable to that of NL Cy Young winner Clayton Kershaw, only an American League version that was boosted by much better batting support, no surprise considering Detroit's star-infused lineup.
No one is better at keeping its own than Detroit. But what really seems to distinguish this case is the cool, intellectual approach Scherzer, a University of Missouri product, brings to the situation. It's not that Scott Boras is his agent; don't forget Boras and Mr. I have teamed up on many major past deals, from Ivan Rodriguez to Magglio Ordonez to Prince Fielder. It's more about the stance of Scherzer, a no-nonsense fellow who, when interviewed about the situation, doesn't even offer the clichéd bouquets for his own team that usually come with this territory. He doesn't give an ounce, even in interviews.
"I'm just not going to get into it, really," Scherzer, who opens his spring today with a split-squad start here vs. the Yankees, said in an interview earlier this spring. "That's between me and the Tigers."
 Scherzer is a polite fellow, and perhaps he's saving the niceties for the discussions with the Tigers. But maybe there just isn't much to say at this point.
"I just want to pitch. I just want to win," he says. "All of the off-field stuff takes case of itself."
 But will it, at least with the Tigers?
While Scherzer acts coolly noncommittal, the Tigers don't hide their desires. No surprise, the organization that's put winning first and built its team around an unrivaled top of the rotation wants Scherzer to remain a Tiger.
"We would like to keep Max as part of the organization," Tigers general manager Dave Dombrowski said in a phone interview earlier this spring. "He's expressed a desire to stay here, and we'll see what happens."
Scherzer's public approach may only reveal his preference for privacy, or perhaps a business sense that tells him: the less said, the better. But talk to Tigers people behind the scenes, and they understand that this is their toughest sign in years; they view him much more as a "wild card" in negotiations this spring than Cabrera, the cornerstone positional player who's won the AL MVP two years running but has previously signed an eight-year deal with the Tigers and also has two years to go before free agency.
The Tigers have done an amazing job of stacking their mid-market team with stars, really as good as any in baseball. And they treat those stars especially well. The team avoided any chance at acrimony by giving Scherzer a raise to $15.525 million in arbitration, bestowing an $8.8 million raise that smashed the previous $5.9 million record of Carlos Zambrano for a fifth-year starting pitcher and amounted to a whopping 130 percent.
Plus, they've done as good a job as possible setting themselves up for the monster negotiation ahead. Dombrowski, who originally acquired both Scherzer and star center fielder Austin Jackson in a terrific three-team trade in which he dealt Curtis Granderson at the 2009 Winter Meetings in Indianapolis, did yeoman's work this winter clearing some financial space to try to extend Scherzer as well as Cabrera by trading starting pitcher Doug Fister and star first baseman Prince Fielder (for Ian Kinsler). Those moves saved tens of millions of dollars.
"We'd like to keep both players,'' Dombrowski said of Scherzer and Cabrera. "We have an owner as generous as any. Dollars are still important for any organization, but we've given ourselves a little more flexibility with some of the moves we made."
The Tigers' record for keeping their best players is practically perfect. A winter ago they kept Sanchez for $80 million over five years, signing him back when he appeared close to becoming a Cub. They kept ace Verlander by adding five years and $140 million to a deal that still had two years and $40 million to go. Both deals were seen as generous at the time. Perhaps Mr. I will keep his record perfect.
But by all accounts, this one won't be easy. True to character, Scherzer didn't blink when there was trade talk about him this winter. And there's no sense he's about to blink anytime soon.
He said he understands that a trade was being discussed. And word is, the Tigers did receive one very good offer they considered before ultimately and characteristically deciding they don't want to hurt their 2014 World Series chances, instead dealing Fister to open a rotation spot for Drew Smyly (but also to aid their chances to retain Scherzer).
"I realize [a trade] was a possibility," Scherzer said. "I've been traded before. So I get the business side of baseball very well."
That he does. He also knows, too, that he's set himself up for a monster payday. Most of the top pitchers have already been locked up, and others, like Jon Lester, seem more inclined to take a hometown discount to stay put.
Scherzer has shown no signs that he would do the same thus far. He appears to be approaching it like a businessman. He saw what Clayton Kershaw got ($215 million, seven years). And don't think he didn't notice. That's going to be considered. So is the $180 million, seven-year Verlander deal, which is really even more considering he was two years from free agency.
"Everyone's a comp," Dombrowski said. "Everything is considered and discussed."
Early numbers heard attached to Scherzer's target are in that ballpark, or more. Scherzer can't match Kershaw's consistency of career. But the last year was similar; both, in fact, won 29 of 30 first-place votes. And you heard things out of Scherzer's camp about how his velocity readings are near the top of the charts, well ahead of Kershaw. That's no small thing. Speed is something teams covet, especially the Tigers, who, owing to Dombrowski's pitching philosophy, annually have baseball's hardest-throwing staff.
The Tigers love Scherzer, of course, a monster success story following an oft-criticized three-team trade and early wonderment about whether the hard-throwing Scherzer would put it all together, but a whisper or two from Tigers-connected people bring mention that while Scherzer is obviously a top-tier pitcher he isn't a nine-inning pitcher; in fact, he became the first starting pitcher to win a Cy Young before throwing his first complete game. Few are anymore, but that's one area where he's outstripped by Verlander, whose career also include several more great years.
Dombrowski has none of that nuanced talk; he wants to sign the player. Said Dombrowski, "Max Scherzer won the Cy Young award. He had a tremendous season. He's a tremendous pitcher."
The real question is this: Come next year, will he still be their pitcher?
Baseball players forced to take pictures usually lead to fun for all of us

One of the most celebrated programs in baseball is looking to continue its run

A closer look at the teams in the Cactus League and Grapefruit League
Spring training baseball gets underway Friday

Christopher Crawford weighs in on all things prospects

Pawol is expected to umpire in the minors again come the regular season