May 10 Prospect Watch: Trevor Bauer is ready to help the Indians
This week's prospect watch highlights Trevor Bauer, Javier Baez and several others.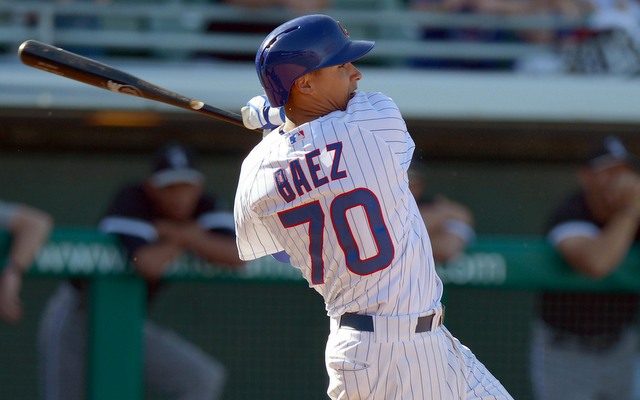 More MLB: Power Rankings | Expert Picks | Latest news & notes | Fantasy news
The 2014 MLB draft is less than four weeks away now, so teams are trying to finalize their draft board and gauge everyone's willingness to sign. Likely top five pick East Carolina RHP Jeff Hoffman recently blew out his elbow and needs Tommy John surgery, shaking up the top of the draft. Hopefully no one else gets hurt, but, either way, expect the draft board to change in these next few weeks. It's very fluid.
Here is the weekly minor league update -- Red Sox 2B Mookie Betts is still destroying Double-A (1.054 OPS), but he can't include him every week -- featuring three prospects on the rise, three on the way down, and a pair of draft prospects heading in different directions.
THREE UP
RHP Trevor Bauer, Indians: It feels like Bauer has been a prospect forever, but the 23-year-old is only in his third full professional season. He's been traded, had some disagreements with coaches, lost his stuff, struggled at both the major and minor league level ... these last few years have been a roller coaster. Bauer made some adjustments to his unique routine and delivery in spring training and has regained both his stuff and prospect luster. He struck out eight in a six-inning spot start for Cleveland earlier this year -- PitchFX clocked his fastball at 94.1 mph, up from 92.6 last year -- and has a 1.12 ERA with 40 strikeouts and 11 walks in 40 1/3 Triple-A innings this season. Bauer's ready. The Tribe could stick him in their rotation any time now.
SS J.P. Crawford, Phillies: It is super duper early, but it looks like the Phillies got the steal of the 2013 draft in Crawford, who was selected 16th overall last summer. The 19-year-old hit .308/.405/.400 with 14 steals and nearly as many walks (32) as strikeouts (35) in 53 games after signing last year, and he's followed that up by hitting .322/.412/.475 with nine doubles, three home runs, seven steals, 17 walks and 18 strikeouts in his first 30 games of 2014. Crawford is a standout defender at short who is expected to remain at the position as well, so he's an asset both at the plate and in the field. The only real knock against him is his base-running instincts (21-for-32 in career steal attempts), something that should improve with experience. Crawford is in Low Class-A and several years away from the show, but he looks very much like a future star.
RHP Jake Thompson, Tigers: The Tigers love big, strong, hard-throwers and Thompson fits the bill perfectly. He is listed at 6-foot-4 and 235 lbs., and his four-pitch pitch mix is headlined by a heavy mid-90s sinking fastball. Thompson also throws a sharp slider as well as a curveball and changeup. He was the team's second round pick in the 2012 draft, and this year he has a 1.07 ERA with 39 strikeouts and 12 walks in 42 innings for Detroit's High Class-A affiliate. Thompson has struck out 11 and allowed just five hits in his 12 innings across his last two starts. He's not the next Justin Verlander or anything like that, but he's a power arm with a deep repertoire and a workhorse's body. Guys like that tend to carve out very long careers. Thompson is at least one and likely two years away from helping the Tigers, though they have shown a willingness to be aggressive with their young arms.
THREE DOWN
SS Javier Baez, Cubs: Baez, 21, was the talk of spring training with his mammoth homers and lightning quick Gary Sheffield-esque bat speed. There were more than a few people clamoring for him to make the team out of camp even though he had only 54 games of experience above Single-A, all at Double-A. Baez started the regular season at Triple-A and so far things are not going well. At all. One year after swatting 37 home runs with a .920 OPS, he comes into the weekend with a .165/.260/.306 batting line in 23 games. Baez has also struck out in 35.5 percent of his plate appearances, a function of his ultra-aggressive and swing from the heels at all times approach. He needs to work on that before helping Chicago. Baez remains one of the game's elite prospects despite the slow start. His flaws are just more evident than ever before.
OF Bubba Starling, Royals: The Royals selected Starling fifth overall in 2011 because of enormous raw tools and athleticism, raw tools and athleticism that have yet to develop into baseball skills. The 21-year-old is hitting .152/.267/.277 with 38 strikeouts (29.0 percent of plate appearances) through his first 30 High Class-A games. Last season he managed a .241/.329/.398 batting line with 13 homers and 22 steals in 125 Low-A games, which was disappointing given his draft slot. Starling was a star quarterback recruit who had a full scholarship to Nebraska before deciding to play baseball, and it appears all that time split between multiple sports have left him behind the usual development track. I don't like playing the "what if" game, but man, it's really hard to not notice that not only was Anthony Rendon selected one pick after Starling in the draft, but Jose Fernandez and Sonny Gray were taken a handful of picks later. Ouch.
OF Mason Williams, Yankees: Williams' father Derwin played for the New England Patriots in the mid-1980s and he inherited more than his fair share of athleticism. The Yankees paid him a seven-figure bonus as a fourth round pick in 2010, and it appeared he was heading for stardom after posting an .820 OPS with 11 home runs and 20 steals in 91 Single-A games as a 19-year-old in 2012. Instead of continuing on that path, Williams struggled at High Class-A last season (.641 OPS) and is off to a miserable start this year, hitting .198/.291/.275 with five steals in his first 32 Double-A games. Williams has a fine approach at the plate (19/17 K/BB), but he said to have adopted an Ichiro-like slap hitting style rather than doing what comes naturally. There have also been some maturity and work ethic questions. Williams wasn't a high-profile pick like Baez and Starling, but he appeared on multiple top 100 prospect lists from 2012-13, and for whatever reason he got away from what was working and his career has stalled.
2014 DRAFT STOCK UP
1B Casey Gillaspie, Wichita State: If you're going to get drafted as a first baseman, you better be able to hit, and Gillaspie can definitely hit. He's a switch-hitter who came into the weekend sporting a .401/.511/.698 batting line with 13 home runs and a 20/41 K/BB in 49 games. He has hit .320/.443/.544 with 32 homers, 137 walks and 98 strikeouts in 98 career games for the Shockers. Gillaspie is a big guy (listed at 6-foot-4 and 238 lbs.) who doesn't offer much in the field, but he can produce from both sides of the plate, has some power, and knows how to get on base via something other than a base hit. His brother is White Sox third baseman Conor Gillaspie, so Casey has some baseball bloodlines as well. Gillaspie is considered more of a second round talent, but he's been hitting more and more (especially for power) as the draft draws closer, elevating his stock.
2014 DRAFT STOCK DOWN
OF Braxton Davidson, T.C. Roberson HS (Asheville, NC): Although he plays outfield in high school, the consensus is that the 6-foot-3, 215 lb. Davidson will wind up at first base long term because he doesn't run all that well and his arm isn't very accurate. That's fine though, because his left-handed swing is the prettiest in the class (video), with no wasted movement and an advanced approach at the plate. Davidson has arguably the highest offensive ceiling in the draft, someone who could be an impact middle of the order bat if he develops as hoped. His stock has taken a hit because of a poor showing in the 2014 National High School Invitational tournament last month, when he struggled against elite high school pitchers in front of tons of scouts and front office folk. Davidson is still a definite first round pick, just now he's more of a 20-30 pick range guy than 10-20.
The 2014 amateur draft will be held from June 5-7. The full draft order can be found at River Ave. Blues and is still subject to change pending the free agencies of Stephen Drew and Kendrys Morales.
Get 15 percent off any order of more than $75 at CBS Sports Shop

Get your sports fans something that they'll wear all year

No, you're not imagining things. This MLB offseason has been very slow compared to the last...
Francesa will retire from radio next month, so he'll have plenty of free time next summer

The Twins need help in the rotation, and they may look to the trade market to find arms

Here are the bullet-points of what went down Tuesday regarding MLB and the Braves' punishm...