May 3 Prospect Watch: Stroman, Meyer ready to help at MLB level
Both the Blue Jays and Twins have a potential impact starting pitcher waiting to get the call in Triple-A.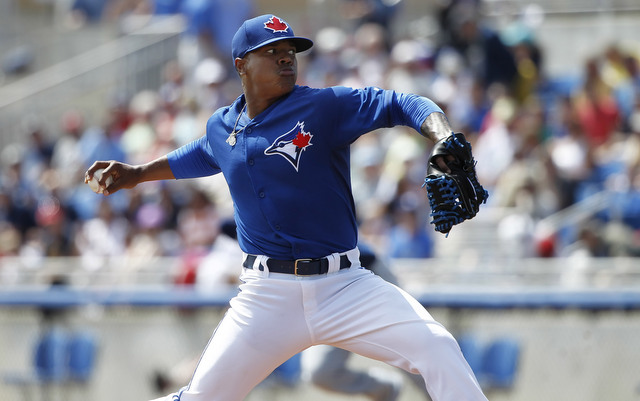 More MLB: Power Rankings | Expert Picks | Latest news & notes | Fantasy news
Because it's not fair to highlight Red Sox 2B Mookie Betts and Dodgers OF Joc Pederson every week -- they both continue to knock the ball all over the park, in case you're wondering -- this week's Prospect Watch features a heavy dose of pitchers. Here are three potential big leaguers who are on the rise and three who have hit a bump in the road.
THREE UP
3B Joey Gallo, Rangers: Gallo, 20, is one of the most fascinating prospects in the minors. He has enormous raw power from the left side of the plate -- 40 home runs in 111 games last season and 72 homers in 195 career games since being the 39th overall pick in the 2012 draft -- and enough speed to steal the occasional base, but he struggles to make consistent contact and had 280 strikeouts in 837 career plate appearances (3.5 percent). That is way, way too many for a guy who has yet to escape Single-A ball. Gallo has already mashed 10 homers this season and so far he's cut down on his strikeouts as well, going into Friday's game with 30 in 110 plate appearances (27.3 percent). It's a small sample, yes, but strikeout rate is one of the very first things to stabilize, usually around 60 plate appearances or so. Gallo is not particularly close to helping the Rangers at the MLB level, but he boasts mammoth power in an age where power is hard to find. Now that he seems to be cutting down on his strikeouts, he could emerge as one of the game's top overall prospects.
RHP Alex Meyer, Twins: Acquired from the Nationals in the Denard Span trade, the 24-year-old Meyer's last two starts have been damn near identical: 6 IP, 3 H, 0 R, 3 BB, 11 K and 6 IP, 2 H, 0 R, 0 ER, 3 BB, 11 K. It's clear now the shoulder issue that cost him two months of last season is in the past and he continues to deliver high-90s fastballs with two good offspeed pitches in his curveball and changeup. Meyer is physically huge (listed at 6-foot-9 and 220 pounds) and it can take tall pitchers a long time to learn how to control their long limbs, but he seems to have it figures out right now. He figures to make his big league debut at some point this summer, and, considering how poorly the MLB staff has performed, Meyer could emerge as the club's top starter in short order, a la Sonny Gray last season. (Gray is definitely on the opposite end of the size scale).
The 2014 amateur draft will be held from June 5-7. The full draft order can be found at River Ave. Blues and is still subject to change pending the free agencies of Stephen Drew and Kendrys Morales.