May 31 Prospect Watch: Catchers on the rise, high-profile arms falling
This week's Prospect Watch focuses on two catchers on the rise as well as some high-profile pitching prospects who are slipping.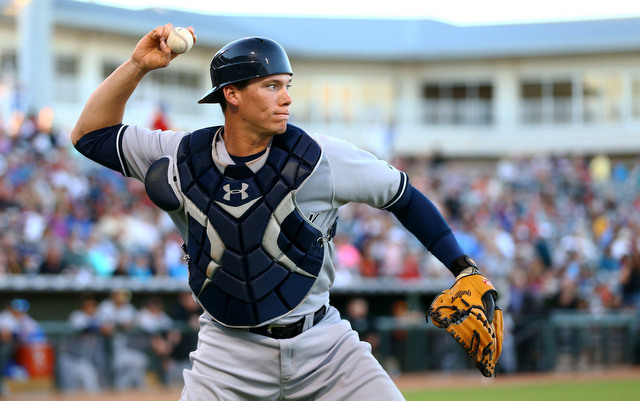 More MLB: Power Rankings | Expert Picks | Latest news & notes | Fantasy news
The Cardinals officially called up outfielder Oscar Taveras on Saturday, starting what should be a run of top prospects coming up to the big leagues these next few weeks as the Super Two cutoff date passes. Taveras is a top 3-5 prospect in the game and arguably the best offensive prospect in baseball.
The 2014 amateur draft begins this coming Thursday and of course we'll have you covered here at Eye on Baseball. Here is status report on six minor league prospects and two draft prospects:
THREE UP
C/RF Peter O'Brien, Yankees: Through the first two months of the season, O'Brien leads all of professional baseball with 20 home runs. That includes the majors and minors. The 23-year-old out of Miami swatted 10 homers for New York's High Class-A affiliate before being promoted to Double-A, where he's hit 10 more. His overall season line is .297/.330/.682, though his strikeout (47) and walk (eight) numbers are warning signs that his plate discipline isn't the best. He also has some exploitable holes in his swing. The Yankees have already tried O'Brien in right field and at third base because his defense behind the plate is subpar. He's basically a one-tool guy, but if you're going to only have one tool, power is the one to have. That thunder in his bat will earn him plenty of opportunities.
C Kevin Plawecki, Mets: Plawecki, 23, is starting to look like the catcher of the future for the Mets with Travis d'Arnaud continuing to get banged up and not produce with the bat. The 35th overall pick in the 2012 draft, Plawecki is hitting .329/.361/.510 with 13 doubles and five home runs in 39 Double-A games this year, plus he has only struck out 21 times in 166 plate appearances (12.7 percent). His defense behind the plate is rock solid and there are no concerns he will have to move off the position anytime soon. d'Arnaud will still get plenty of chances to figure it out at the MLB level, but Plawecki is coming, sooner rather than later.
OF Jesse Winker, Reds: Winker can flat out rake. The 20-year-old is sporting a .323/.418/.525 batting line with 14 doubles, six home runs, 27 walks and 34 strikeouts in 41 High Class-A games this season, where he is more than two full years younger than the average player. The California League is a wonderful place to hit, but Winker has still been 54 percent better than league average offensively. His left-handed bat is among the best in the minors. The long-term question is his defense, which is below-average in left field. Winker is probably best suited for first base, but that isn't an option in Cincinnati. He'll remain in left, mash his way to the big leagues, and the Reds will live with the bad defense as long as he continues to put up dominant offensive numbers.
THREE DOWN
RHP Zach Lee, Dodgers: Lee, 22, was an elite quarterback recruit a few years ago, but the Dodgers bought him away from LSU with a $5.25 million bonus as the 28th overall pick in the 2010 draft. They hoped his high-end athleticism would allow him to develop into an ace, but it hasn't happened just yet. Lee's climb up the minor league ladder has hit a speed bump in Triple-A this season, where he has 4.73 ERA with a career-high walk rate (3.1 BB/9) and a career-low strikeout rate (6.7 K/9) through 59 innings. Albuquerque is a brutal place to pitch, so the numbers aren't as bad as they seem on the surface when you add some context, but they are still underwhelming. Lee's a very good pitching prospect who the Dodgers are still waiting to take that next step.
LHP Justin Nicolino, Marlins: Nicolino, 22, was part of the massive Marlins-Blue Jays blockbuster last offseason. His first year in the Miami organization was very good -- 3.11 ERA split between High Class-A and Double-A -- and this year he has a 3.30 ERA in 62 2/3 Double-A innings. So what's the problem? The utter lack of strikeouts. Nicolino has fanned only 27 batters this year, or 3.9 K/9 and 10.4 percent of batters faced. That's abysmal. There are more ways to get outs that strikeouts, obviously, but any pitching prospect worth a damn should have a good strikeout rate. Nicolino is a fastball/changeup pitcher who is lauded for his pitching smarts, though if Double-A hitters are having zero trouble putting the ball in play, there's a problem.
RHP Aaron Sanchez, Blue Jays: The 21-year-old Sanchez was the one top prospect Toronto did not trade last offseason. The 34th overall pick in the 2010 draft made the organization look smart when he posted a 3.34 ERA at High Class-A last season, earning him a trip up to Double-A in 2014. The early returns have not been good. Sanchez has a perfectly fine 4.14 ERA in 54 1/3 innings with a very not fine 6.1 BB/9 (15.4 percent of batters faced). He has more walks (22) than strikeouts (16) in his last six starts and 24 1/3 innings. Control was never Sanchez's calling card, he's always been a huge stuff guy (mid-to-high-90s fastball with a hammer curveball), but his mechanics have taken a step back and now basic strike-throwing has been a problem. Sanchez is still young and he has a ton of potential. He just has a long way to go before contributing to the Blue Jays.
2014 DRAFT STOCK UP
RHP Tyler Beede, Vanderbilt: Timing is everything, and on Friday night the struggling Beede turned in his best performance of the season. He struck out 14 in Vandy's regional game against Xavier, allowing only four hits and two walks in eight shutout innings. Beede had really been struggling earlier this spring, at one point allowing 17 runs in a 20-inning stretch, which put him on the first round bubble. A dominant performance like this -- most importantly, Beede showed the same nasty fastball/changeup/curveball combination that made him a possible top five pick coming into the year -- a few days before the draft should comfortably push him back into the first round. Teams now know the guy they've watched the last two years isn't gone forever.
LHP Jacob Lindgren, Mississippi State: The general belief is that Lindgren can do for some team what Paco Rodriguez did for the Dodgers in 2012, meaning reach the big leagues a few weeks after the draft to immediately become a shutdown lefty specialist. The 21-year-old has a 0.88 ERA in 51 relief innings this spring -- he moved into the bullpen full-time this year after giving the rotation a try in 2013 -- with an absurd 95 strikeouts. His 16.4 K/9 would be by far the highest in Division I if he had enough innings to qualify. Lindgren has a low-to-mid-90s fastball with a nasty slider, and everything plays up because he has some funkiness in his delivery. Generally considered a third or fourth round guy coming into the year, Lindgren is now likely to go in the second round and be pushed to the big leagues in a hurry.
The 2014 amateur draft will be held from June 5-7. The full draft order can be found at River Ave. Blues and is still subject to change pending the free agency of Kendrys Morales.
This scout was SUPER into Jeter

Stanton warned Marlins fans about the lean years that are forthcoming

The World Series champions aren't complacent
Stanton swiped at his old team on his way out

Your one-stop shop for all things MLB Winter Meetings-related

Matt Harvey could be on his way out of New York