Maybe Ryne Sandberg will help, but what Phillies need is better players
Charlie Manuel is a true baseball character and one of the best things to happen to the Phillies. But while it's hard to argue with a managerial change, the real question is whether this is a winning roster anymore as GM Ruben Amaro Jr. stubbornly sticks by his guys. ...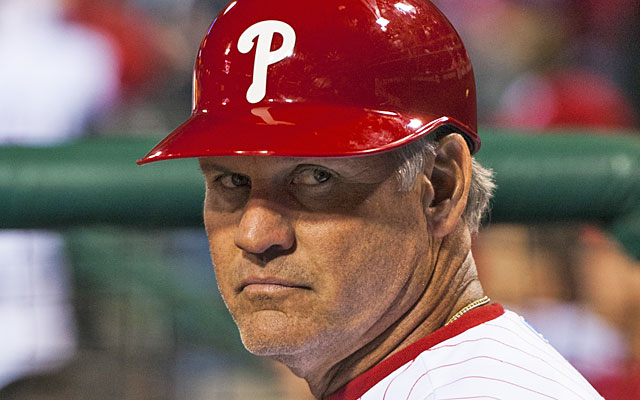 Been a long time since Back to School shopping was more interesting than August baseball in Philadelphia.
So at this point, as Charlie Manuel hisownself might say, what the hell. Why not change managers?
The Phillies are in fourth place, 20½ games behind the Braves, 2½ games behind even the Mets, going nowhere fast. There is every reason to get a jump-start on 2014. Why not audition Ryne Sandberg in the manager's seat, right now?
As general manager Ruben Amaro Jr. said during Friday's news conference, once it became evident that Manuel would not return in 2014, he didn't see any reason to drag it out over the final 40-some games. The GM didn't think it would be fair to Manuel, and he's right.
That was one of the few times Amaro found the ball with the sweet spot of his bat Friday.
Much of the rest of what he said, if I'm rooting for the Phillies, I'm not sleeping well tonight.
Particularly over this from Amaro, responding to whether the team needs a different type of manager than Manuel:
"We're still talking internally about what we're looking for. Clearly, just like Charlie, we're looking for somebody who understands the front office as well as the on-the-field [aspects]. We're looking for somebody who understands there is a process.
"We're analyzing that stuff today, what type of manager we'd like to have. There are so many qualities, some communication, knowledge, energy ... there's a lot of them."
The facts are these:
Manuel is 69. He had reached short-timer status as the manager regardless of the results.
The Phillies have been headed south for two seasons now, the trip accelerating rapidly this summer. Their core group is old.
And ... they still don't know internally what -- or who -- they're looking for?
That speaks to a major void in this organization's direction.
That, taken together with the Phillies' inexplicable inactivity at the July 31 trade deadline -- they didn't even deal Michael Young? -- cannot result in anything other than a total vote of no confidence in whatever direction they're headed.
With mounting age and injuries, Manuel had no shot to win over the past two seasons. Neither would have Earl Weaver nor Billy Martin.
The spotlight right now is on Amaro, not Manuel and not Sandberg.
The GM explained that "a lot of factors" have contributed to the quick descent.
"The last couple of years, injuries played a part," he said, still not seeming to quite grasp that when you reach the ages of Ryan Howard (33) and Chase Utley (34), injuries often are the norm, not the exception. "Some decisions we made in the front office.
"I guess my feeling is we still have talent. Charlie and I talked about this. The core players are still very talented. We can get back to being a contending club."
To do that, he said, the Phillies need these injured core players to get back onto the field, and they need to "fill some holes."
Yet at the trade deadline, they made no move to start the process of filling these holes. Which only increased the workload this winter. And if those moves are like last winter's and more Delmon Youngs arrive ... yikes.
Frankly, I thought Manuel looked refreshed Friday. He looked far better than I expected.
Which might be another glimpse into the case that the proverbial window has shut on this Phillies team. Because Manuel is one of those old-time baseball characters who comes straight from Central Casting, issued with infield dirt under his fingernails.
"I love putting on a uniform. I would have wore it over here today if I could have," he quipped at one point Friday.
At another point, asked about his self-description as a "24-hour baseball guy" and how he would now fill his time, he quipped, "You know what, I figure I'll get up in the morning, come to the ballpark real early and be gone before people get here."
Manuel always will have a special place in Philadelphia and in the hearts of its fans. The 2008 World Series title is indelibly ingrained in the city's soul. The return trip to the 2009 World Series was another exhilarating ride.
What a run it was.
As for what's next, Amaro insisted that "by no means" was Sandberg hired into the organization in 2011 with the guarantee that he would follow Manuel. And that there is a "possibility" that Sandberg will become the full-time manager but that "I really haven't made a decision one way or the other."
What he insists is that given the organization's current core players and young players, the Phillies have a very bright immediate future.
"Others can have different opinions on that," Amaro said. "But I'm optimistic."
Clearly, at 14 games under .500 and losers of 19 of their final 23 games under Manuel, the current clubhouse composition is too much cheese, not enough steak.
Phillies fans can only hope the same doesn't hold true in the front office.
CBS Sports HQ Daily Newsletter
Get the best highlights and stories - yeah, just the good stuff handpicked by our team to start your day.
Please check the opt-in box to acknowledge that you would like to subscribe.
Thanks for signing up!
Keep an eye on your inbox for the latest sports news.
Sorry!
There was an error processing your subscription.
Dodgers manager Dave Roberts has nine righties in his lineup against Sale

The 1916 World Series featured the Brooklyn Robins vs. the Boston Red Sox

The Red Sox and Dodgers are two of MLB's most storied franchises, and we could be in for an...
It's supposed to rain up until the game, though, so the field will be wet

Our advanced computer model simulated the entire 2018 World Series 10,000 times

New England fans have it really good these days -- but it's also a great time to be a Los Angeles...