McCann and Ellsbury are a great start, but Yanks still have work to do
The Yankees couldn't stop themselves from being the Yankees. They agreed to sign Jacoby Ellsbury to a huge contract on Tuesday, but their offseason work is far from over.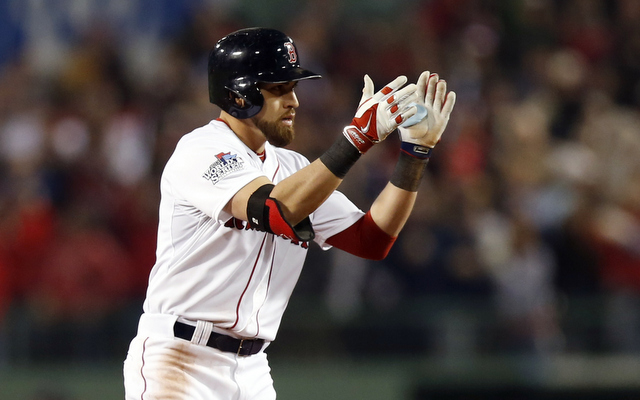 MORE: Heyman: Yankees agree with Ellsbury | Snyder: Abandoned luxury tax goal?
After all that talk about getting under the luxury tax threshold and holding a hard line with Robinson Cano, the Yankees just couldn't help themselves. They're the Yankees and they're going to spend like the Yankees.
On Tuesday night, those Yankees agreed to sign Jacoby Ellsbury to a seven-year contract worth $153 million with an eighth-year option that could push the total value to $169 million. That came a few hours after the team officially announced the signing of Brian McCann to a five-year, $85 million contract that could be worth $100 million if the sixth-year option vests.
Two of the largest contracts in baseball history less than 24 hours apart. That is the Yankees way, not thresholds and building from within. After missing the postseason and watching both television ratings and attendance at 5-year-old Yankee Stadium plumment, it was time for the Bronx Bombers to get back to doing what they do best, and that's spend boatloads of money on big name players.
The question now is where do the Yankees go from here? Cano, their unquestioned best player, is still a free agent. Alex Rodriguez may or may not get suspended, but even if he doesn't, they have to look for a third baseman because they can't count on him to stay healthy. Then there's the rotation, which currently features CC Sabathia, Ivan Nova and three question marks. McCann and Ellsbury are only two players.
For a period of time from about 2004 through 2008, the Yankees fell into the trap of having a top heavy roster and little depth. Remember Aaron Small and Shawn Chacon? Yeah, those guys weren't part of the plan. They were emergency pickups because the team had no in-house alternatives when someone went down. They just happened to work out beautifully. Those types of moves happened far too often from 2004-08.
That was a baseball lifetime ago. The Rays are great now. The Orioles are good and the Blue Jays at least look like they were on the way up. Back then, it was only the Yankees and Red Sox -- now it's the Yankees and four other clubs in a tight AL East. The margin for error is much smaller and New York needs to be more prudent with its roster decisions.
Signing McCann and Ellsbury is going to help the Yankees a ton in 2014. Derek Jeter and Mark Teixeira returning from season-long injuries should help as well. Losing Andy Pettitte and Mariano Rivera will hurt but there is still time to replace them. When push came to shove and the Yankees needed to figure out a way to get back into contention, they went out and spent a ton of cash because that's what the Yankees do. If they want to finish the job, now they have to work on improving their rotation and the margins of the roster. That is just as important as the big names.
MLB can unilaterally implement rule changes

If the MLBPA wants to fix MLB's economic system, it should push for more money for young p...

Fans aren't happy Gerrit Cole and Andrew McCutchen have been traded away
Acuna is arguably the best prospect in baseball

Kent had a good career, particularly with the bat

This would undoubtedly be the worst trade in Miami Marlins history