McCann may hit HR as free agent: BoSox, Yanks, Rangers, etc. in play
Brian McCann should do very well this winter with at least a half dozen teams as potential suitors.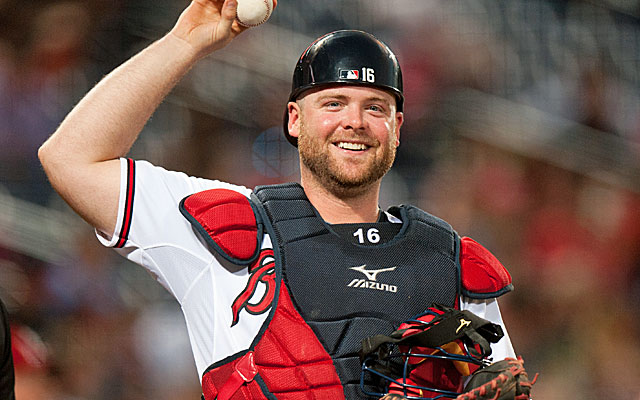 Not many players should enjoy a better free agency than catcher Brian McCann.
McCann's consistent offensive numbers, his relative youth and even his serious attitude should aid him as he approaches the free-agent market. But another big plus is the large number of big-market teams that'll be seeking a catcher.
Early predictions that he could reach $100 million may be a bit ambitious, but it has to help that the Red Sox, Yankees, Rangers, Cubs and Angels all are candidates to sign a catcher and could be major McCann players. The Blue Jays and White Sox are among ther teams that could have an interest, as well. The Giants and Rockies are said to like McCann very much, but Colorado is very unlikely to be able to afford him and it's hard to imagine how the San Francisco would make it work with superstar catcher Buster Posey and young first baseman Brandon Belt.
The incumbent Braves like McCann but are sure to spend their money elsewhere considering their tight budget, with a player payroll that has stayed between $90 million and $100 million six straight years, and a decent catching situation, with Evan Gattis and prospect Christian Bethancourt, a defensive whiz, as young, cost-effective alternatives.
The Rangers have long had an interest in McCann, as Danny Knobler wrote early this month. But what could really drive the price is the possible interest from some of the biggest markets, including the Yankees, who had Chris Stewart and Francisco Cervelli catch this year, and the Red Sox, whose catcher Jarrod Saltalamacchia is also a free agent.
McCann, who batted .256 with 20 home runs and 57 RBI this year, has an .823 OPS for his career, exceptional for a catcher. He's hit at least 20 home runs in seven of eight full seasons, hitting 18 the one time he fell short. He is a seven-time All-Star.
Adell shows part of the reason why Los Angeles drafted him 10th overall in 2017

And, well, they're probably right

Supposedly, MLB execs have discussed letting teams hit any three hitters they want in the...
Keep tabs on the top 50 free agents on the market right here

After the departures of Steven Souza and Corey Dickerson, the Rays add a right-handed bat

Rasmus essentially walked away from baseball during last season