McCarthy and Headley are a start, but Yankees need more to contend
The Yankees have swung trades for Brandon McCarthy and Chase Headley in recent weeks, but they still need more help to contend in the AL.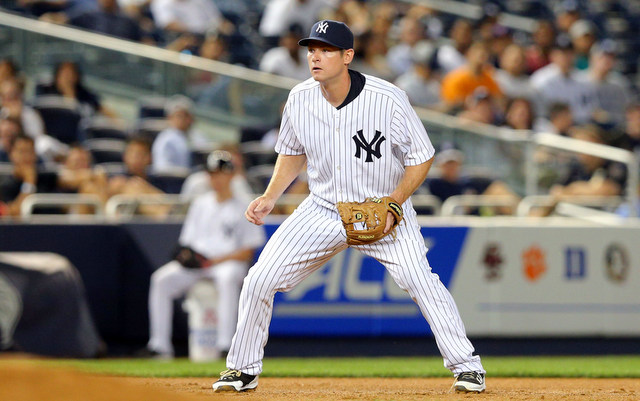 Related: Yanks get McCarthy | Yanks get Headley | Will change of scenery help Headley?
The non-waiver trade deadline is just over a week away, and there will surely be a ton of moves between now and then. It's possible the biggest name (Jeff Samardzija) has already been dealt, but you know there will still be plenty of teams seeking upgrades. Moves will happen. Lots.
The New York Yankees have already made two trades this month, first getting Brandon McCarthy from the Diamondbacks before the All-Star break, then nabbing Chase Headley from the Padres on Tuesday. The additions will surely help their injury-riddled rotation and powerless offense, but those moves alone won't be enough to put them over the top. GM Brian Cashman has more work to do.
Need No. 1: Another Starter
Even with McCarthy in tow, the Yankees are still without CC Sabathia (knee), Ivan Nova (Tommy John surgery), Masahiro Tanaka (elbow) and Michael Pineda (shoulder). Sabathia and Nova are definitely done for the year and both Tanaka and Pineda are still several weeks away, if they're able to return at all. That's four-fifths of their Opening Day rotation.
Along with McCarthy, New York has trotted out the veteran Hiroki Kuroda , the serviceable David Phelps , and two rookies in Chase Whitley and Shane Greene . Whitley and Greene have combined for 26 Triple-A starts (13 apiece) before being handed rotation spots. There's an awful lot of question marks in that rotation, especially since Kuroda has faded in the second half of each of the last two seasons.
The Yankees don't need another ace at this point, though adding someone like David Price would certainly help. They just need an innings eater who will be more reliable and predictable than Whitley and Greene. Their non-Tanaka starters had a 4.33 ERA coming into Tuesday night and that's just not good enough.
Need No. 2: A Right Fielder
It was supposed to be Carlos Beltran . The Yankees signed the veteran outfielder to supplant Ichiro Suzuki in right, but a bone spur in Beltran's elbow has relegated him to full-time DH duty and will keep him there until he has offseason surgery. Ichiro is hitting a soft .281/.329/.318 (82 OPS+) on the year and Alfonso Soriano was so bad (68 OPS+) that the team released him earlier this month.
Coming into Tuesday, Yankees right fielders were hitting .249/.290/.354 (86 OPS+) with only six home runs this season. The league average right fielder is hitting .261/.325/.413 (109 OPS+) with 11 home runs. The team already has two productive but low-power outfielders in Brett Garder and Jacoby Ellsbury , so the need for pop from right field is pretty substantial. Ichiro won't provide that and neither will any of their other internal options.
Need No. 3: A Second Baseman
This is one problem the Yankees might be able to solve internally. Brian Roberts has managed to stay healthy this year but is hitting only .212/.304/.369 (87 OPS+) overall. It might have been the right move to let Robinson Cano leave considering that contract, but there's no doubt the Yankees miss him in the middle of their lineup.
Triple-A second baseman Rob Refsnyder came into Tuesday hitting a robust .322/.389/.525 with 26 doubles and 12 home runs this year, though the team has been hesitant to call him up do to concerns about his defense. If the Yankees are not going to call Refsnyder up -- calling him up is not a slam dunk upgrade, obviously -- then trading for someone to replace Roberts should be on the agenda.
Need No. 4: Another Reliever
Just about every team in baseball is looking for bullpen help at the trade deadline, so the Yankees are hardly unique. They have a dominant setup man/closer combination in All-Star Dellin Betances and David Robertson , plus Adam Warren is an excellent third option, but the 'pen thins out after that. Betances, Warren, and Robertson have a 2.19 ERA in 143 2/3 innings while all the team's other relievers have a 5.13 ERA in 159 2/3 innings.
* * *
The Yankees came in Tuesday's game four games behind the Orioles in the AL East and 2.5 games back of the Mariners for the second wild-card spot, so they're right in the hunt with 63 games to play. But not as presently constructed and especially not if Baltimore and Seattle make moves of their own. Another starter and a right field is the bare minimum for New York. Those are necessary moves. Second base and the bullpen are lower priorities.
There will be a Game 5 after all on Thursday night

Tanaka shut the Astros down in ALCS Game 5 and has overcome a down season and past injurie...

The 2017 World Series begins Oct. 24
The Yankees wouldn't chase Keuchel's bread-and-butter, those tempting pitches just at the knees...

The Yankees are now just one win away from the World Series, despite trailing this series 2-0...

It's Alex Wood against Jake Arrieta at Wrigley Field