McCourt leaves with Dodgers on top, but don't give him too much credit
Finally, Frank McCourt is officially out as owner of the Dodgers. An ugly -- but strangely successful -- era in Los Angeles baseball comes to a close. McCourt's teams often won on the field, which is why it's somehow appropriate that he leaves with the Dodgers holding the best record in the National League.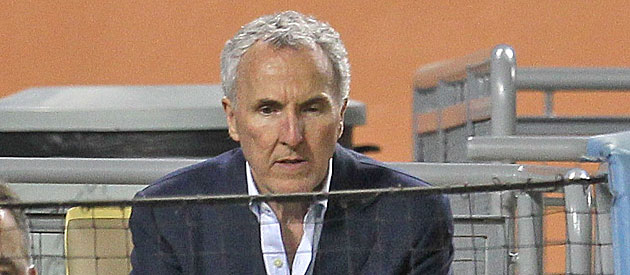 On-field success is not what is most notable about the McCourt Regime in L.A. (Getty Images)
As the Dodgers sale became official Tuesday, Frank McCourt handed Magic Johnson and his group the team with the best record in the National League, and the second-best record in baseball.
Which is strangely appropriate.
Not because McCourt was a good owner. He was one of the worst that baseball has seen, turning the team into a financial mess and turning off fans.
But he also took over a franchise that hadn't been to the playoffs in eight years, and hadn't won a playoff game since 1988. Under McCourt, the Dodgers made it to the playoffs four times, and made back-to-back trips to the National League Championship Series.
He'd tell you that made him a good owner (in fact, I've heard him say it). I'd tell you it says more about the baseball people who worked under him, including general manager Ned Colletti and assistants Logan White and DeJon Watson.
It also tells you what the Dodgers could and should become with better ownership in place.
Colletti and his staff built this year's team with a $95 million payroll that ranks 12th in the majors. The Dodgers are winning mostly because of homegrown players like Matt Kemp and Clayton Kershaw, but also because Colletti seems to have done well with the little money he had to spend over the winter.

Does McCourt deserve any of the credit?
Well, he did hire Colletti in 2005, a year after buying the team. He did allow the Dodgers to lock up Kemp last November, with an eight-year, $160 million contract that right now looks brilliant.

But he also ordered the payroll slashed as his ugly divorce from Jamie led to money problems. And he let venerable Dodger Stadium slide to the point where it no longer felt like something special.
No, he wasn't a good owner, but on the field, his teams were hardly a disaster.
Now he leaves, with the Dodgers on top.
Honeywell is considered a top 15 prospect overall in baseball

Troy Tulowitzki is not a pitcher, for those of you who don't know

It will be MLB's 15th game abroad and the A's third in 12 years
Dee Gordon, Zack Cozart, and Ryan Braun are among the players learning new positions this...

Adell shows part of the reason why Los Angeles drafted him 10th overall in 2017

And, well, they're probably right