Medlen seeks second opinion after MRI shows ligament damage (elbow)
Braves right-handed pitcher Kris Medlen is heading for a second opinion and more evaluation after an MRI showed 'some involvement of the ligament' in his right elbow.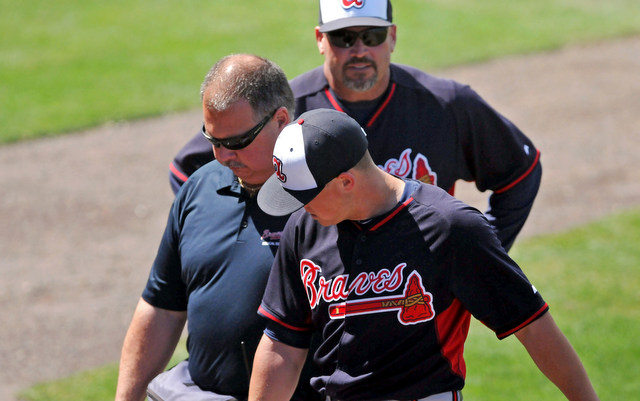 MORE: Spring Training | Scoreboard | FA tracker: hitters | FA tracker: pitchers
Sounds like the MRI exam on Kris Medlen's right elbow showed bad news. There is "injury to the ligament" according to Braves GM Frank Wren, though he did not elaborate on the extent of the damage. The team's ace is heading for a second opinion and further evaluation.
"His MRI showed injury to the ligament, but don't yet know the extent," said Wren in a statement. "A diagnosis would be premature at this point, he will undergo further tests until we seek a second opinion. An MRI can sometimes be inconclusive when a player has had a previous Tommy John surgery."
It's hard not to assume the worst here, though as Wren cautions, there is not yet a final diagnosis. Medlen had Tommy John surgery back in 2010 but has otherwise been pretty healthy throughout his career. He left Sunday's game holding his elbow after throwing a pitch:
The Braves are already without left-hander Mike Minor, who is slowly working his way back from a shoulder problem earlier in camp. Brandon Beachy left Monday's start with a biceps problem as well. Starters Julio Teheran, Freddy Garcia, Alex Wood and David Hale are still standing.
Medlen, 28, went 15-12 with a 3.11 ERA (124 ERA+) in 197 innings in 2013.
Does the Jackson signing mean the Giants are out on Lorenzo Cain?

Acuna edged out Shohei Ohtani and Vladimir Guerrero Jr.

There's no reason to run over the cases for and against Bonds, so let's have fun instead
The coveted right-hander would certainly be a fit in Milwaukee

We rate the best mustaches from random baseball cards because, why not?

Colon wants to break a Dennis Martinez record