Melky was having a great season, until the day we found out it was all one big fraud
He's cost the Giants and himself. But it's hard to know how much since we really have no idea how good he is after he failed a test for testosterone.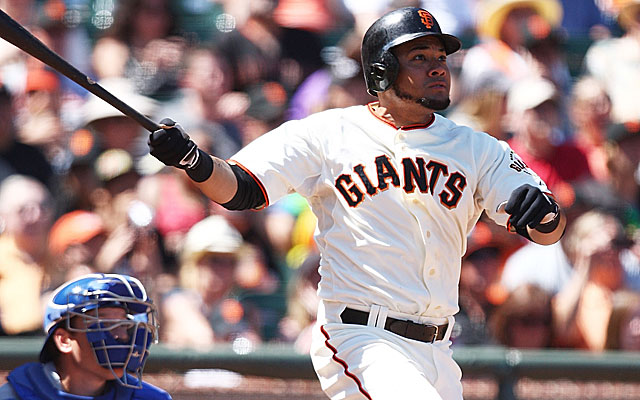 At the time of his suspension, Melky Cabrera was second in the N.L. in batting.
(Getty Images)
The initial reaction around baseball to the news that star San Francisco Giants outfielder Melky Cabrera was suspended 50 games for testing positive for failing a test for testosterone went something like this.
What a dummy!
What a fool!
He blew it!
While all those assertions may well be true, here's the flip side. Maybe Melky's numbers are nothing but a mirage, anyway.
Maybe he really isn't a .346 hitter on a level playing field. Maybe he doesn't have 11 home runs playing home games in a big ballpark, or 60 RBI.  Or even 13 stolen bases.
Maybe he doesn't have anywhere near those numbers without the extra help.
Maybe Melky isn't the All-Star Game MVP without the artificial boost. Maybe he doesn't even get to the All-Star Game.
Maybe he is just another guy on a level playing field. Maybe he's the guy who was the flabby, below average player he was in Atlanta. Or maybe's just the decent but clutch guy he was with the Yankees.
Maybe Melky has regrets about the drugs. But maybe he doesn't. We'll never know for sure, because who'd believe him, anyway?
Maybe Melky knew he needed the lift to become the player he appeared to be. If that's the case, maybe Melky understood the risk, took his shot and enjoyed several moments in the sun, including one in Kansas City that's eminently regrettable to all those who witnessed it now.
His career turnaround seemed too good to be true. And so it was.
Give Melky credit for this. It isn't much, but he at least fessed up to his mistake after getting caught and suspended Wednesday.
"My positive test was the result of my use of a substance I should have not have used. I accept my suspension under the Joint Drug Program and I will try to move on with my life,'' Cabrera said through the players union.
Of course Melky lied a couple weeks back when asked about the rumors he had failed a test by Giants beat writer Andrew Baggarly of Comcast Bay Area, inspiring Baggarly to write an apology column he'll have to take back now. Lying to a reporter is a small-potatoes breach of integrity compared to a failed drug test, and Cabrera knew that.
He also knows no one should believe without question the big numbers he put up last year nor certainly the even bigger numbers he put up this year.
Melky's statistics are bloated and counterfeit. He isn't the big-time star they'd have you to believe him to be.
Of course, the test failure and suspension are at this moment a big blow to Melky, and to the Giants, who at least prepared for it by acquiring Hunter Pence, another good-hitting corner outfielder, at the deadline. Melky will miss the rest of the regular season plus five games of the playoffs, if the Giants get that far.
Cabrera has cost the Giants their starting left fielder as they battle the Dodgers for the N.L.  West crown and a playoff berth (though maybe he didn't cost them the legitimate star folks assumed he was, because he never was that guy).
If you believe Melky is an honest-to-goodness legitimate star sans the drugs, he has cost himself, too.
Melky may well have legit second thoughts. Though of course, even he may wonder whether he could have become this sudden star without the extra help.
 It's hard to know what to think when someone cheats. It's hard to know how good he is.
Even the Melk Man can't be sure of that.
If anyone still believes the new puffed-up numbers are close to an approximation of his skills, he'll still get big bucks as a free agent this winter – more than he deserves. But if everyone decides they aren't real, that the Atlanta Melky or New York Melky is the real Melky, then he won't be quite as rich.
As for the Giants, who agreed with Cabrera's agents, the Levinson brothers, to table contract talks until the end of the year, they could look at it two ways. "They can say, "Maybe he's not this good,''' one competing GM said. "Or they can say, "Maybe it's a chance for us to buy low.''
That GM said he previously envisioned Cabrera getting maybe $60 million for five years, but could not easily see him getting half that, maybe only $30 million for three.
Cabrera still has a lot going for him. As that GM pointed out, he plays all three outfield spots. He has a cannon arm. He's a switch hitter. He is only 28 (just turned that age on Sunday).
He still will very likely get a pretty big payday, probably a lot bigger than he deserves.
The Twins have already fortified the bullpen with Addison Reed, and now they want to address...

The Orioles likely want pitching, and the Indians have plenty of it

Halladay died in a November plane crash off the coast of Florida
The power-hitting outfielder is headed to Toronto

Martinez could add some power to a Boston lineup void of it

It's almost that time of the year again, time for the Tebow madness to return