Mets agree to sign outfielder Chris Young to one-year deal
The Mets and outfielder Chris Young have agreed to terms on a one-year contract, reports Jon Heyman of CBSSports.com.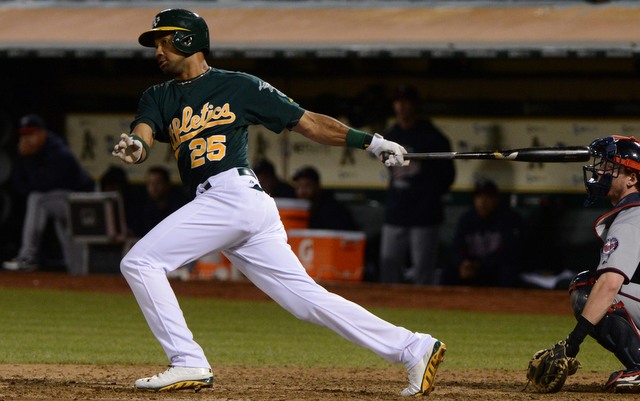 Outfielder Chris Young has agreed to a one-year, $7.25-million contract with the Mets, reports Jon Heyman of CBSSports.com. The deal is still pending a physical.
Young, 30, hit .200/.280/.379 (85 OPS+) with 12 home runs and 10 stolen bases in 107 games for the Athletics this past season. The right-handed batter did do some damage against lefties (93 OPS+) and away from spacious O.co Coliseum (102 OPS+). He managed a 98 OPS+ for the Diamondbacks in 2012.
Young is a very good defender who can play center field, though the Mets intend to play him regularly in a corner spot, according to Heyman. Juan Lagares, who posted an 80 OPS+ but played Gold Glove caliber defense as a rookie in 2013, will remain the starter in center field. Having two center fielders in the outfield will be a joy for the team's pitching staff.
The Mets could still use another corner outfielder and were said to have interest in Curtis Granderson and Nelson Cruz in recent weeks. They're also in the market for a shortstop and bullpen help. First baseman Ike Davis is reportedly on the trade block.
Get 15 percent off any order of more than $75 at CBS Sports Shop

Get your sports fans something that they'll wear all year

No, you're not imagining things. This MLB offseason has been very slow compared to the last...
Francesa will retire from radio next month, so he'll have plenty of free time next summer

The Twins need help in the rotation, and they may look to the trade market to find arms

Here are the bullet-points of what went down Tuesday regarding MLB and the Braves' punishm...