Mets, Brewers meeting about Ike Davis in limited first-base market
The Brewers, Astros, Rays and Pirates still need a first baseman. With James Loney being likely out of their price range, the Brewers are meeting with the Mets about a possible trade for Ike Davis.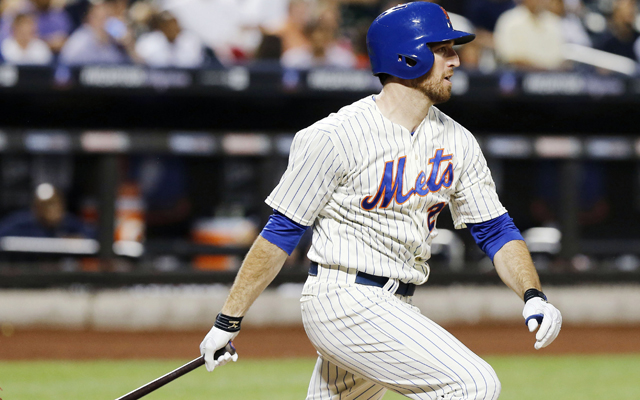 MORE: FA tracker: position players | FA tracker: pitchers | Winter Meetings updates
ORLANDO -- The Mets and Brewers are meeting about a potential trade that would send first baseman Ike Davis to Milwaukee, Jon Heyman of CBSSports.com is reporting.
With the Brewers needing a first baseman and the first-base market at this point being incredibly thin, this is a possible match.
The Astros, Rays and Pirates also need a first baseman and James Loney is sitting on the free-agency market, but he's likely too pricey for what the Brewers want to do this offseason.
Enter Ike.
The Mets are trying to trade Davis after a disappointing 2013 season. One could argue 2012 was disappointing too, though he recovered from a disastrous start to have a huge second half. That is all Davis could really hang his hat on after a good rookie year, as his 2011 season was marred by injury.
In 2012, Davis hit .255/.346/.542 with a whopping 20 home runs after the All-Star break in only 251 at-bats. This led many to believe he was in for a breakout season last year as a 26-year-old in 2013. Instead, Davis hit just .205/.326/.334 with nine homers in 377 big-league plate appearances in a season that required a demotion to Triple-A.
There's certainly enough talent to salvage and maybe a change of scenery helps, but giving up much value for Davis would be a gamble.
There's no reason to run over the cases for and against Bonds, so let's have fun instead

The coveted right-hander would certainly be a fit in Milwaukee

We rate the best mustaches from random baseball cards because, why not?
Colon wants to break a Dennis Martinez record

The Twins have been rumored to be interested in Darvish all winter

Rolen is one of the best third basemen of all time, but you wouldn't know it based on this...