Mets deserve two starters in All-Star Game
With the All-Star Game at Citi Field next month, Mets fans should be able to see two of their players in the starting lineup: Matt Harvey and David Wright.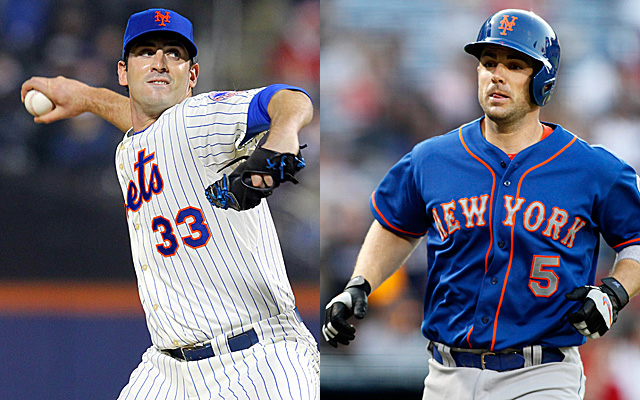 More MLB: Scoreboard | Standings | Probable Pitchers | Sortable Stats | Odds
We're still two weeks from when the All-Star teams are revealed. But in Sunday's 8-0 win over the Phillies, the Mets perfectly illustrated that they deserve to have two starters in the mid-summer classic: Third baseman David Wright and starting pitcher Matt Harvey.
Though the All-Star Game is for home-field advantage in the World Series, it remains and event held primarily for the fans. It's for all fans, of course, but there's an added element that it's very important for the host club's fans. It's why Robinson Cano should have selected the Royals' Billy Butler to be on his home run derby team last year at Kansas City, and it's why both Wright and Harvey should be starters at Citi Field on July 16.
Now, don't get me wrong here. Making poor decisions just to make the home fans happy wouldn't be right, but these two men deserve their spots based upon merit.
Wright is head and shoulders above his competition at third base, both in terms of star power and 2013 performance, especially with Pablo Sandoval on the disabled list. After a big game on Sunday, Wright is hitting .309/.390/.533 with 15 doubles, five triples, 12 homers, 41 RBI and 12 stolen bases. His chief competition on the All-Star ballot should be Sandoval, Chase Headley, Pedro Alvarez, Michael Young and Todd Frazier -- none of whom hold a candle to Wright in 2013 numbers or career pedigree.
As for Harvey, he's 7-1 with a 2.05 ERA, 0.88 WHIP and 121 strikeouts in 110 innings this season. Arguments could be made for Adam Wainwright, Cliff Lee, Clayton Kershaw, Jordan Zimmermann, Patrick Corbin and a few others as the deserving All-Star Game starter, but none of them have definitively outperformed Harvey. And, with the game being played at Citi Field and all things being equal, the tiebreaker should go to the hometown player.
Things obviously things could change within the next two weeks. But as things stand now, the fourth-place Mets are deserving to have two of their players starting the All-Star Game at Citi Field next month.
Maxwell joins a growing movement across sports

The Yankees punched their ticket to the playoffs with a win over the Blue Jays on Saturday

Sabathia's stance seems to be an increasingly popular one among athletes
Plus the A's and Brewers have hope, Giancarlo goes deep again, and much more

Matt Chapman and Matt Olson give the A's hope

Despite an awful month, the Dodgers are again NL West champions