Mets, Dickey only $6 million apart, but team still listening on trades
R.A. Dickey is asking for $26 million on a two-year extension while the Mets are offering $20 million.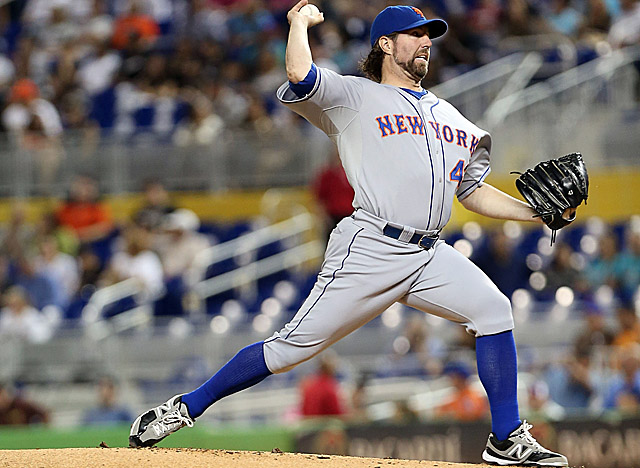 After negotiating for two months, Dickey and the Mets are still $6 million away from agreeing on a deal. (Getty Images)
R.A. Dickey and the Mets are only $6 million apart in negotiations now, but the Mets continue to talk to teams interested in a trade for the reigning NL Cy Young winner.
Sources indicate at least a couple teams have offered one elite prospect for Dickey, but the Mets are looking for multiple players back in a package.
The Mets could just decide to bring Dickey back on his $5 million 2013 contract, though that probably isn't optimal.
The contract negotiations, which have been going on for more than two months now, have the Mets offering a two-year, $20 million extension on top of the $5 million contract in place for 2013, with Dickey looking for $26 million over two years.
The Rangers are the most frequently named team in trade negotiations, but are not believed to be close to a deal for Dickey. Their top available prospect, third baseman Mike Olt, isn't the best fit for the Mets since they just signed 3B David Wright to an eight-year, $138 million extension.
The Angels, Dodgers, Orioles, Red Sox, Blue Jays and Royals are among other teams to have talked to the Mets about Dickey.
Dickey, a knuckleballer, is a difficult pitcher in terms of gauging his value because of his unusual career path. He rose from journeyman to valued rotation member in 2010 before taking the huge step to become the best pitcher in the league.
Get your sports fans something that they'll wear all year

Get 15 percent off any order of more than $75 at CBS Sports Shop

No, you're not imagining things. This MLB offseason has been very slow compared to the last...
Francesa will retire from radio next month, so he'll have plenty of free time next summer

The Twins need help in the rotation, and they may look to the trade market to find arms

Here are the bullet-points of what went down Tuesday regarding MLB and the Braves' punishm...