Mets' Dickey throws a one-hitter*
If you're going to argue that Johan Santana's no-hitter should have been a no-hitter*, then R.A. Dickey's Wednesday night one-hitter was really a one-hitter*. Dickey has been a great story this year, and Wednesday night he pitched a great game.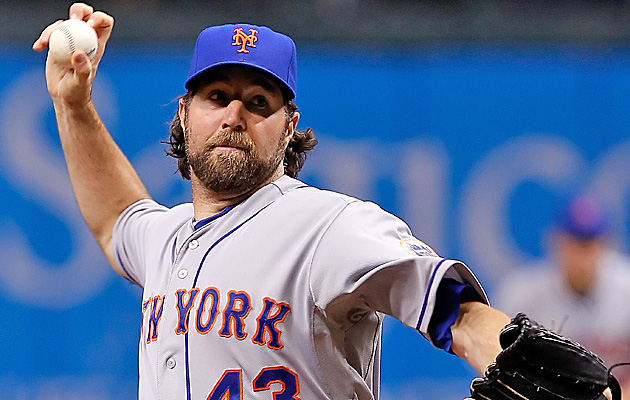 No-hitter or one-hitter, Dickey never allowed the Rays to hit anything hard. (Getty Images)
Can a one-hitter have an asterisk, too?
Because if you're going to argue that
Johan Santana
's June 1 no-hitter was really a no-hitter*, then
R.A. Dickey
's Wednesday night one-hitter was really a one-hitter*.
Santana benefited from an Adrian Johnson call that turned a fair ball (and a hit) into a foul ball (and eventually an out). Dickey lost out on a Bill Mathews call that the
Mets
were suggesting could or should be turned from a hit into an error.
For the record, I'd argue that the Tropicana Field official scorer made the right decision when he awarded
B.J. Upton
with a hit in the first inning Wednesday (Dayn Perry of our Eye on Baseball crew
showed the play here
). But I also know that if the same play had come in the eighth or ninth inning rather than the first, a whole bunch of official scorers would have had no problem calling it an error.
Is that good? No, it's not, but it is true.
Here's something else that's undoubtedly true: Dickey pitched better Wednesday, in his 9-1 one-hit* win over the
Rays
, than Santana did in his no-hitter* against the
Cardinals
.
Santana needed help from a great play by Mike Baxter, on a
Yadier Molina
drive that was smoked to left field.
Dickey didn't allow the Rays to hit anything hard.
"It could have been a no-hitter, easily," said one rival scout in attendance. "In the sixth inning, he hadn't even broken a sweat. His knuckleball was so good, it was almost like a late, sharp-breaking slider."
Dickey's knuckleball has been so good that Mets manager Terry Collins argued after the game that he has to be considered "one of the top 3, 4, 5 pitchers in baseball at this particular moment."
He certainly has to be one of the top 3, 4, 5 stories in the game right now.
Dickey, as Collins pointed out Wednesday night, was one of the first players the Mets cut in spring training 2010. He was 35 years old at that point, had never been a major-league starter for a full season, and owned a career ERA of 5.43.
Now he owns the longest consecutive scoreless innings streak in Mets history, at 32 2/3 (topping Jerry Koosman's record). It would be 33 2/3, except for a
David Wright
ninth-inning error (this one correctly ruled an error), two passed balls (also correctly ruled) and a ground out.
"Just start another streak the next time," Dickey told SNY's Kevin Burkhardt after the game.
It's hard not to like this guy, right?
I don't imagine Tony La Russa wants to pick his National League All-Star starter a month before the July 10 game, but at this point doesn't it have to be Dickey?
Wednesday's win made him the first pitcher in the majors with 10 wins. His ERA is down to 2.20. He hasn't allowed an earned run since the sixth inning on May 22, becoming the first big-league starter since Chris Carpenter in 2009 to make four straight starts without allowing an earned run.
The last guy to go five in a row without an earned run (in a single season) was Brandon Webb, in 2007. The only guys in recorded history to go six in a row in the same year were Don Drysdale and Orel Hershiser.
"That was a fun game to watch," said the scout in attendance Wednesday.
"Truly amazing," Collins said, pointing out that Dickey was two Wright plays away from throwing a perfect game.
Yeah, besides not allowing anyone to hit the ball hard, Dickey didn't walk anyone, which sure is truly amazing for a knuckleballer. He struck out 12, and 79 of the 106 pitches he threw were strikes.
It was a one-hitter, and after watching the replay quite a few times, I'm still convinced it should be a one-hitter.
But I'm still going to call it a one-hitter*.
There's no reason to run over the cases for and against Bonds, so let's have fun instead

The coveted right-hander would certainly be a fit in Milwaukee

We rate the best mustaches from random baseball cards because, why not?
Colon wants to break a Dennis Martinez record

The Twins have been rumored to be interested in Darvish all winter

Rolen is one of the best third basemen of all time, but you wouldn't know it based on this...