Mets did right by signing Wright, now they need to do the opposite with Dickey
A 38-year-old knuckleballer doesn't really belong on a rebuilding team.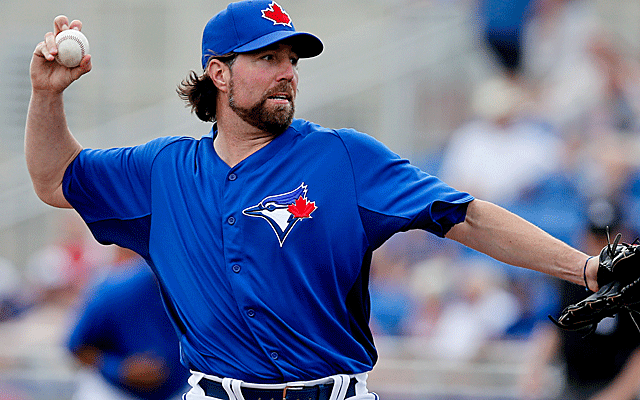 The Mets aren't winning a stacked N.L. East in 2013, with or without R.A. Dickey.
(US Presswire)
The Mets got franchise-man David Wright signed in the middle of the night, sometime between Thursday and Friday. It's when they make news. They once fired Willie Randolph around midnight in Anaheim, but the story in New York has always been that they did it, heartlessly, at 3 a.m. Eastern time.
Anyway, the Wright deal was something the Mets had to do. He has always been "our Jeter,'' as one high-ranking Mets person once said, their heart. Only maybe a little friendlier and a bit less fortunate (though obviously still quite fortunate).
Wright is $138 million richer today on a deal that -- believe it or not -- seems decidedly team friendly. The $122-million, seven-year extension on top of his $16-million 2013 salary is hailing distance from the $119-million, seven-year deal Carlos Beltran got eight years ago, before baseball salaries started to go crazy again.
Wright proved he is the loyal man he claims to be by staying with the struggling team (though we already knew that, as he's stayed with his longtime agents, the Levinsons of Aces, through all their PED allegations). And the Mets showed they aren't quite broke, even if they still aren't acting like a major-market team.
Mets people realized the value of Wright to the brand, the team and the future. But now it's time to do what's necessary with star pitcher R.A. Dickey.
And that is to trade him.
They shouldn't trade Dickey entirely because it's taken longer to do a two-year deal with him than it did to complete a contract that is the biggest in Mets history (though only technically, since accounting for years and inflation, Deadspin suggests Johan Santana's $137.5-million, six-year deal is actually 43 percent more, and I'd agree).
Someone with knowledge of the talks suggested three weeks ago "there's a deal to be made'' between Dickey and the Mets. But there's no good reason it should take this long. Nor is there, really, a reason they should waste any more time on it.
It's a two-year deal, for crying out loud. It only seems like it's taking longer than that.
Dickey's intermittent leaks and remarks about how it's going aren't the reason the Mets need to cut the cord, though they are getting a bit tiresome. Frankly, it's that he doesn't fit. The Mets aren't a contender, with or without Dickey.
"Dickey is a knuckleballer and he's [38],'' one competing executive said. "Who knows how he'll be? The thing flutters a little bit one way or the other, and who knows what will happen?''
Here's what should happen here.
Dickey is under a one-year deal for $5 million and might repeat as the ace who led the National League in complete games, shutouts, strikeouts and innings. Or he might revert to the middle-rung starter who went 19-22 the previous two seasons.
Anyway, the Mets aren't winning a stacked N.L. East next year, with or without Dickey. Better to fill two holes with young players, get themselves a catcher and an outfielder maybe.
A 38-year-old knuckleballer has no place on a team that's supposed to be rebuilding, a team that needs help in many places and officially has no outfield ("What outfield?'' is what GM Sandy Alderson said about his outfield when asked about it at the GM meetings).
Whatever the Mets do, they need not to bring back the same team that didn't make it in 2012. If they re-sign Dickey, it's easy to imagine a similar team, maybe minus Scott Hairston, maybe plus a new cost-efficient catcher, and plus or minus a couple relievers.
The Mets have talked about Dickey with the Royals, and there might not be a match, as the Royals don't want to part with any of their young big-league nucleus. They also don't seem to want to part with top outfield prospect Wil Myers, at least not yet. But star pitching is at a premium, and if the Mets can't get Myers, they should get a top young player or two from someone.
The Royals spent $25 million on Jeremy Guthrie who was terrible for two-thirds of 2012, someone's going to spend big money on Ryan Dempster and Shaun Marcum, and someone will spend much bigger money on Anibal Sanchez, Kyle Lohse and of course Zack Greinke.
Dickey had a much better year than any of them. Not even close.
Lohse was very good, Greinke was good, Sanchez was very good at the end and Dempster was very good with the Cubs. But Dickey was brilliant all year, winning 20 games for an also-ran.
Trading Dickey might be tricky. Some teams might view his 2012 season as a fluke. But the key is finding the team that doesn't. The key is finding the team desperate for a top-of-the-rotation starter that doesn't have $75 million to spend on Sanchez or Lohse, or twice that to spend on Greinke.
Besides the Royals, the Angels, Rangers, Red Sox, Dodgers, Nationals, Blue Jays and Twins are among teams looking for pitching. A few of these teams are going to spend tens of millions to sign a pitcher who might be an ace. At least one of those teams should realize it's better to relinquish a couple good young players than to spend $75 million or more (prospects generally aren't worth $75 million).
Dickey might well repeat what he did in 2012 one more time. But the Mets won't win with him. They need to find the right team, and make a good trade. They need more hope for the future.
The contract for Wright was the correct first step. The second step should not be signing a 38-year-old knuckleballer with significant trade value.
Several teams are interested in the switch-hitting first baseman

Neshek and the Phillies are closing on a two-year contract

And the team that first drafted Cole is interested
This scout was SUPER into Jeter

Stanton warned Marlins fans about the lean years that are forthcoming

The World Series champions aren't complacent