Mets expected to offer about $100M to start as they try to make David Wright a Met 'for life'
Team has reached out to both Wright and R.A. Dickey. They're giving talks the month before considering trades as an alternative.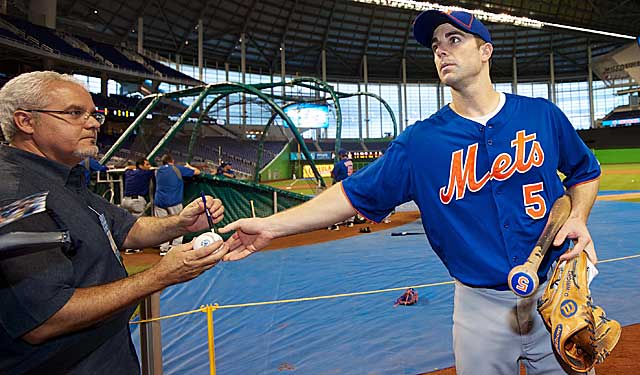 Wright fell off a little in the second half but still finished with 21 homers and 93 RBI. (US Presswire)
The Mets are expected to open negotiations with an offer for somewhere in the neighborhood of $100 million for star third baseman David Wright, people familiar with the team's thinking said.
The Mets are believed to have some flexibility as they intend to try hard to keep their biggest star. They are expected to give negotiations at least most of October before even considering a trade for Wright.
The Mets' financial issues have hindered their ability to pursue big-time acquisitions the past couple of winters, but the Mets appear serious about keeping the home-grown Wright in the fold. The Mets have reached out to Wright and star pitcher R.A. Dickey in recent days, and the club is focused for now on trying to sign both players to extensions.
The goal in Wright's case is to make him a Met "for life." The deal could include team options at the end on the hope Wright, 29, remains productive into his late 30s.
The Mets have never kept their biggest stars for the entire careers -- even Tom Seaver was traded to the Reds. Ed Kranepool was the rare Met -- playing all of his 18 seasons for the Mets, thought he wasn't a player of this stature.
Wright said in this space five weeks ago that he was "extremely optimistic" he will be able to work something out with the Mets. He has a very strong relationship with many people around the team, from club owner Jeff Wilpon to the clubhouse kids. Wright said then that he considers himself a very loyal person, to the point where his favorite player growing up in Virginia was Cal Ripken Jr., the hometown Baltimore Orioles star who never left.
Wright has remained with his embattled agents, the Levinson Brothers' ACES agency, who are being investigated for alleged PED ties unrelated to Wright. The Levinsons have had a strong relationship with the Mets over the years, but there's no reason to believe they have placed extra urgency on this deal because of the probe's timing.
The Mets hoped to start negotiations during the season, but Wright declined to talk to them about a contract then, citing the potential for distraction. Wright didn't match his huge first half in the second but he came through the season healthy and finished with more-than- respectable numbers (21 home runs, 93 RBI and a .306 batting average).
The Mets may give talks about a month, until the point where they will pick up the two players' options in early November. If there are no new deals done by the time the team picks up the options (Wright's is for $16 million, Dickey's is for $5 million) the Mets may consider trades for the players. But particularly in Wright's case, the Mets might have to be overwhelmed to pull the trigger on a trade.
The obvious comp for Wright is Nationals star third baseman Ryan Zimmerman, a friend of Wright's from Virginia who signed for $100 million over six years this spring. Mets people weren't thrilled when Zimmerman received a $100 million deal for six years. While Zimmerman is a couple years younger, Wright has been a slightly more productive hitter. And now Wright's a year closer to free agency than Zimmerman was when he signed his deal.
Ex-Mets shortstop Jose Reyes, who signed for $106 million over six years on a deal is backloaded, is another comp. Rockies star shortstop Troy Tulowitzki, who signed a 10-year, $157 million deal, could be another.
The Mets seem to want to keep Dickey's extension to no more than two years, unless they see the salary as a real bargain. While Dickey is a knuckleballer, they wonder about whether his unusually high velocity for a knuckleballer (80 mph-plus) could affect his ability to last as long as some other accomplished pitchers who specialized in that pitch, like Charlie Hough and Phil Niekro. One rival GM said he believes Dickey should be worth $15 million a year, but the Mets aren't believed to be thinking anywhere near that ballpark.
How should the Astros play it when one of their two aces isn't on the mound against the Do...

The former big-league infielder also worked as GM of the Puerto Rico national team

The Indians pitching coach would be getting his first MLB managerial job
In the last several years, lots of droughts have ended in MLB

The most likely scenarios are Dodgers winning in five or six games

Despite a seven-game ALCS, the Houston rotation lines up nicely for the World Series