Mets have issues, but selfless, patient Collins isn't one of them
Lame-duck manager Terry Collins is starting to become a topic of conversation in New York, but he's done a fine job overall. There's lot of things to like about him, including him admitting the Johan call was the 'wrong'' decision.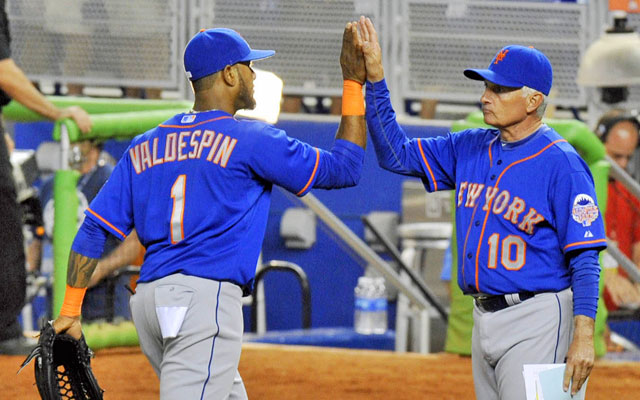 MIAMI -- The Mets' slide reached six games, the last two of them horrific defeats to a stripped-down and depleted Marlins team, before they salvaged a win Wednesday against the Fish to take them to 11-15.
Veteran manager Terry Collins' job status, tenuous to begin with, is starting to become a topic on the New York airwaves and New York papers. You'd never know it from Collins, who doesn't alter his style, demeanor or approach. He doesn't take his eye of the prize, either -- no matter how distant it may seem, no matter how unlikely it appears he'll be a Met to see it through.
No matter, Collins doesn't change. He remains the super intense guy with the soft underbelly, a vastly improved form of his old self.
"This is not about me,'' he says. And you believe him.
Collins, 64 this month, is that rare guy who changed for the better later in life. He isn't as stubborn, or as intractable as he once was. He remains confident, but he's mellowed like almost no one else. He doesn't see things in back and white anymore; yes, gray does exist.
But not when it comes to his guys, his Mets. He is here to protect them, sometimes from themselves.
 Now that the Mets have predictably begun to falter, he is taking sporadic heat for his use of the pen, occasionally even from his own guys. Bobby Parnell, the best guy in his perennially beleaguered bullpen, wanted to pitch Tuesday night after throwing two tough innings the night before, and told Collins so. And Collins told him, "That's why I love you. That's why you're the closer. But I'm not going to blow you out.''
Good for Collins. They lost that game, 2-1, in Parnell's ninth. But he returned to save one the next day. Collins puts the kids before his future, such as it is.
His Mets bosses not only didn't extend him past lame-duck status, they haven't said a word one about his situation. Word going around is that Mets GM Sandy Alderson has deep concerns about the way the team has finished the past couple years, never mind that the overall talent is less than stellar and the Mets have been ending things poorly for years.
The Mets wound up winning 77 and 74 games in Collins' first two seasons at the helm, and that's at least as many as they should have won considering their talent. No one thought they underachieved, except maybe a boss or two.
Collins wouldn't be human if he didn't understand the situation, or maybe occasionally even think about his situation. But if he does, he doesn't let on that it does. And most important, he won't let it affect him. His priorities are straight, which is why the Mets should keep him around past this season.
In many ways, the new Collins is the perfect fit. He retains the right resume, with decades of player development in his past. Plus, to his repertoire he's added patience, the most vital trait for a current Mets manager.
"It's not about my job being at stake here,'' Collins said, explaining the Parnell call. "It's the team at stake. It's the organization at stake. I'm not going to hurt this kid because he'll help me get an extension. That's bull----.''
Collins, a no BS guy if there ever was one, still to this day laments the one big call that brought more glory to the Mets organization than any other, the one 11 months to this day that resulted in the only no-hitter in Mets history. It eats at him. He made that call to keep Johan Santana going for 134 pitches "knowing it was the wrong decision in my head,'' he admitted.
 "That's why I agonized the way I did,'' he said. "That's why I acted the way I did.''
He knew, he says. What he doesn't know is whether Santana's night of glory led to his scary career stall. No one has suggested it did, as Santana twisted his ankle the very next start, leading to mechanical changes, struggles, a lost spring and then this season. No one else is questioning Collins about it, but he is questioning himself, to this very day.
Meanwhile, he doesn't give his own iffy situation a moment's notice. "Maybe it's because I'm old,'' he said.
He certainly had been through a lot. He's made a lot of friends but his over-the-top intensity and my-way-or-the-highway manner also alienated a lot of players during his 42 years in the game. If he wasn't the most popular guy among Houston Astros players, he was public enemy No. 1 among Angels players, where then-GM Bill Bavasi was his biggest supporter through what amounted to a player revolt.
This time he came in at the behest of assistant GM Paul DePodesta, his boss with the Dodgers in Los Angeles, where Collins ran the minor leagues. Alderson made the call to hire him over Bob Melvin (my pick at the time), Wally Backman and Chip Hale. But while Alderson likes Collins, and by all accounts is said to have a very solid relationship with him, Alderson hasn't said or done anything to suggest he's completely sold.
This time the logical successor seems like it could be Backman, a sparkplug of the beloved 1986 World Champion Mets team who was briefly hired by the Diamondbacks several years ago before some personal mistakes came to light, causing them to fire him a few days later. Backman and Collins, coincidentally, were the top two original picks of previous Mets GM Omar Minaya before he eventually settled on a good compromise choice, Willie Randolph. Enough time has passed where Backman, currently managing the Mets' Triple-A team at Las Vegas, might finally be sell-able as major-league manager.
In the meantime, Collins will keep protecting his guys. They seem to love him, and he returns that love. "I can't believe anybody's had a better clubhouse than we have,'' Collins said. No matter how bad things have gotten, it's never turned into a soap opera. "We don't have fights in the clubhouse. We don't have issues being aired in the papers,'' Collins said.
That being said, he knows they need to play better. The last two defeats were particularly gruesome, late and close to the Marlins, a bare-bones team before the year, even before they started losing players to injury. Their team seems practically anonymous at the moment, yet it's been good enough to beat the Mets two straight. The Mets should be better, and they know it, explaining a deadly-silent bus ride on the way to the park today. "Normally someone cracks wise. This time, nothing," one bus rider said.
You could almost feel the exhale when they escaped with a 7-6 victory Wednesday. "Hopefully, today's a start,'' Collins declared afterward.
Collins makes no excuses about what he's working with. And he won't. But the bullpen, the place where Alderson and his men have made the most acquisitions, went from 28th best their first season in 2011, to 29th best last year and again this year. One scout who's followed them said, "Give me two weeks in an independent league and I could put together a better bullpen than (this).'' (That's an exaggeration, but the point is made.)
Mets people say Collins won't necessarily be judged by wins and losses, and that's fair because they seem to be playing for 2014 and beyond, when Noah Syndergaard, Travis d'Arnaud and all the others will start to trickle in. But some Mets people also seem to like the players they brought in more than most others do. The internal expectations seemed too high at times. While no one said anything aloud, Alderson suggested to some folks this winter he expected the Mets could be in the mix.
If contention is anything close too an expectation, this could be a no-win situation. But Collins doesn't concern himself with anything like that. He just worries about his guys. "We've got to do a better job,'' Collins said. "We're going to continue to work our asses off."
There's considerable doubt now as to whether that will be good enough. For him, anyway.
GM Sandy Alderson said he followed his manager's recommendation

A report indicates the Rays are listening to trade offers on Chris Archer and Evan Longori...

Scott missed almost all of last season after a concussion
The superstar is one year away from free agency

The Angels knew about it and still wanted to sign the potential ace, of course

The Tigers asking price is supposedly very high, though