Mets have young arms on the way, but Wright is in his prime right now
The Mets have a ton of young pitching on the way, but David Wright is in the middle of his peak right now. The timetables don't line up.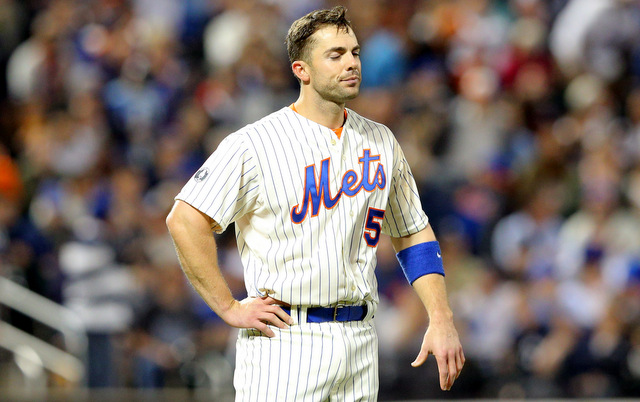 More MLB: Power Rankings | Expert Picks | Latest news & notes | Fantasy news
The Mets are in the middle of a long rebuilding a process, a process necessitated by poor decisions by the previous front office regime and ownership's financial problems. GM Sandy Alderson, in his fourth year on the job, was finally able to spend some money on free agents over the winter, signing Curtis Granderson, Chris Young and Bartolo Colon.
Alderson & Co. have opted to rebuild around young pitching, a risky strategy but a common one. Matt Harvey was a Cy Young contender before hurting his elbow last year, Zack Wheeler is in the rotation right now, and hard-throwing Noah Syndergaard is on the way. Less heralded righties Rafael Montero and Jacob deGrom made their MLB debuts this week.
Harvey, Wheeler, Syndergaard, Montero and deGrom are the future of the Mets. At least that's the plan. The present for the Mets is third baseman David Wright, a franchise player in every single way. The Amazin's signed him to an eight-year, $138 million contract during the 2012-13 offseason to ensure he will finish his career in Flushing.
Wright is the most notable tie between the previous front office regime and Alderson's tenure. He's also 31 and off to a slow start this season, coming into Friday's game with a .282/.326/.376 (101 OPS+) batting line and only two home runs. His 23.9 percent strikeout rate is his highest in years, his 5.4 percent walk rate is by far his lowest since his rookie year, and Wright's fly balls also aren't traveling as far as they once were: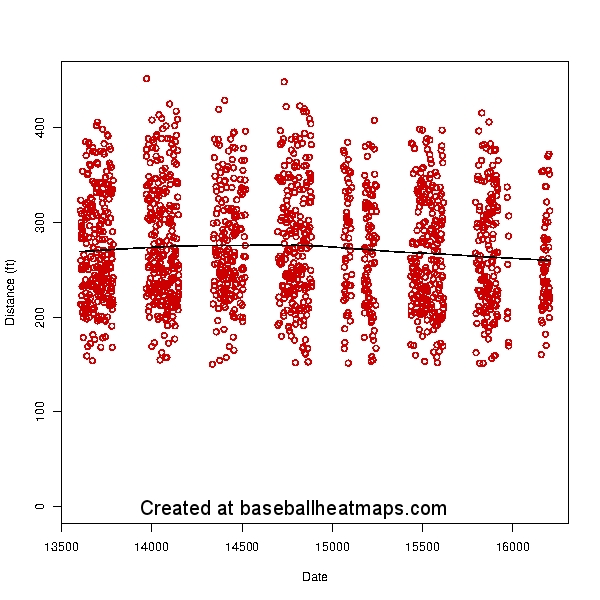 (Verticals clusters are years, so that is 2007-14 from left to right. Each red dot is an individual fly ball. Graph via Baseball Heat Maps.)
Wright's batting average on balls in play (.365) is actually higher than his career rate (.341), so he isn't falling victim to bad luck. Whatever it is, Wright is off to a relatively slow start. The season is still young though; we're just rounding the quarter pole now. I suspect he'll get hot very soon and his numbers will start to look much more like what we're used to seeing.
Even if Wright is in the middle of an early season slump, this little skid is a reminder that he's a grizzled veteran now. This is his 11th season with the Mets and he'll turn 32 years old over the winter. Wright's peak years are starting to wind down, and while that does not mean he will be relegated to bench player status in the near future, it does hurt the team's chances to contend.
The collection of young pitching is outstanding, but there is a timeline issue here, especially in the wake of Harvey's elbow reconstruction. The young arms will be establishing themselves as big leaguers -- some will inevitably flame out, that's baseball -- as Wright's days as a lineup cornerstone begin to come to an end. By the time the young pitchers reach their ceiling and are ready to carry the team into the postseason and to a championship, Wright may only be a complementary player.
Is this a problem? No, not necessarily. It's not ideal though. Other players will have to pick up the offensive slack -- shortstop, left field, maybe catcher (if Travis d'Arnaud doesn't develop as expected) seem like obvious spots to upgrade -- and maybe when the Mets are riding Harvey's, Wheeler's and Snydergaard's young arms to the division title, Wright is a fifth- or sixth-place hitter instead of their three-hole hitter.
Harvey's Tommy John surgery undoubtedly set the Mets back. Instead of being poised to get back into contention in 2015, he will be shaking off the rust and trying to get back to being the Matt Harvey we saw last year. Young pitchers can have an impact right away (see: Jose Fernandez), but usually it takes a while. Even Clayton Kershaw needed about 500 innings before he learned how to stop walking people. Wheeler is going through that learning curve right now and the others aren't far behind.
In a perfect world, the Mets would be in the race right now, while Wright is still relatively young and awesome. That isn't the case though. The Mets still need to improve the supporting cast around Wright and the young arms, and it's entirely possible they won't be ready to win until their captain is ready to turn 34 or even 35.