Mets' hitting coach is first to take fall, and let's hope Collins isn't next
The Mets have an obvious problem: their roster isn't good enough. By all rights, manager Terry Collins shouldn't lose his job, as hitting coach Dave Hudgens did.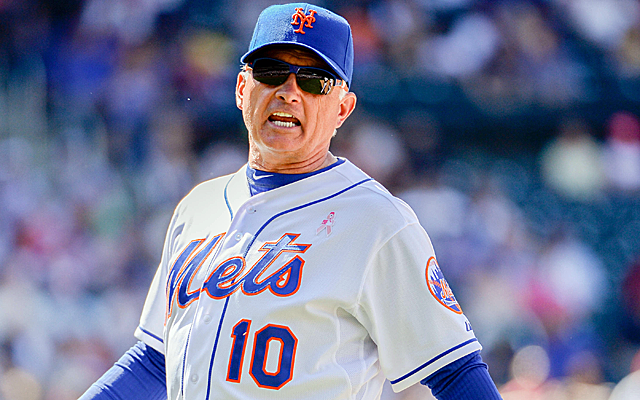 More MLB: Power Rankings | Expert Picks | Latest news & notes | Fantasy news
Hiring a new hitting coach and adding a new public relations person is very unlikely to make the Mets better, or seem better.
Neither will changing managers, which would appear to be at least a real thought now that the Mets have fired their hitting coach.
Manager Terry Collins isn't in immediate jeopardy according to everyone around the Mets. But Collins, a baseball lifer, surely knows the Mets need something of a turnaround to get him to 2015. He deserves to make it there, but it's anything but guaranteed at this point.
Of course, the big issue with the Mets isn't that they didn't have enough high-ranking PR people. No one can make consistent losing for five-plus seasons in a new stadium seem lovely. Yet, the Mets added another one of those this week.
The big issue with the Mets wasn't that the hitting coach didn't teach well enough, either. That should be obvious.
"This is by no means Dave Hudgens' fault. None whatsoever," Collins said in New York.
They simply do not have enough hitting talent or experience.
Yet, Hudgens, a behind-the-scenes hitting coach if there ever was one, took the fall Sunday, and was replaced with another longtime baseball man, Lamar Johnson. Hudgens is a Sandy Alderson guy, a longtime Oakland A's organization coach in Alderson's '80s regime and a guy whose six major-league at-bats came for an Alderson A's team. But Hudgens' firing looks a lot more like the step you make before the manager gets shown the door.
The move might not come in the next few weeks, or even months. But it is on the menu now, there's little doubt about that. The ground under Collins is starting to loosen. Collins told New York writers he understands everyone is vulnerable when a team doesn't perform. He received a stark reminder Monday.
Collins is liked enough within the organization that he'll likely have some time to get the Mets playing like they were in April. The question then becomes: Do they even have it in them?
The other issue is that someone up high in the organization thinks they are a lot better than they are. GM Alderson's proclamation in a closed-doors meeting this spring that they could win 90 games wasn't exactly a prediction, and it obviously wasn't even intended to be public. But just tying that victory total to the GM, even as a goal, puts undue pressure on Collins.
Let's face it. This isn't a 90-win team. It very likely isn't even an 80-win team.
It hasn't been since 2008. No real reason to think it is now.
Their payroll is in the bottom third. Who's to say the team shouldn't be, too?
The rotation, even without wunderkind Matt Harvey, is solid. But it lacks an anchor, a proven star or a stopper. The bullpen is better than some believe but it lacks a bona fide closer, or even a set-up man.
As for the lineup, frankly, it's anything but proven and likely not even that good. At the very least, they are unproven at shortstop, first base and catcher, and in center field. That's four out of eight positions, and you don't have to be a saber genius to know that's half of them.
Chris Young hit for an even lower average last year. Eric Young Jr. is valuable, but as a utility player.
Maybe the Mets should be better than 28th in OPS, but realistically, probably not all that much. The Mets are tied for 22nd in runs, and considering how tough their park is to hit in and the fact that their pitchers can't hit a lick (notably, except for rookie Jacob deGrom, who got called up a week ago and has four of the Mets pitchers' six hits), that seems about right.
The Mets are getting through an especially brutal stretch. They lost two of three at home to the Diamondbacks, who have their own problems. They hit into five double plays in one recent game. They have continued to struggle with runners in scoring position (13 for 66, .197, on the homestand).
In any case, Mets people aren't delusional to know that this one move will be a quick fix. An in-season coaching purge in 1999 worked wonders, as the Mets' offense came alive midway through that year after the hiring of Mickey Brantley. But there's no Mike Piazza on this roster, no John Olerud, no Edgardo Alfonzo or Robin Ventura. And there's only one David Wright.
Anyway, it's too late for Hudgens, a good soldier who went as he came, quietly. (Note: Hudgens wasn't as quiet on day two when he questioned whether tough reactions by Mets fans hurt his hitters at home and said he was tired of listening to the Mets' SNY TV announcers' criticisms, apparently referring to Mets great Keith Hernandez in particular.)
The next question, and it's a reasonable one, is how long Collins has.
He's taking some knocks on Twitter lately, but very little of this is his doing, or his fault. This team has way too many flaws. It very likely will be a threat in 2015 when Harvey returns (he needs to give up the idea he should try to come back in '14, which is way too early). But if you're Collins, 2015 probably looks like nothing more than a nice hope, a far-away mirage.
If Collins is let go before he gets a good team, that isn't really fair to him.
While Bob Melvin and even Chip Hale, now teaming in Oakland, might have made excellent choices (I endorsed Melvin at the time), Collins has fit New York perfectly. He learned from his mistakes in Houston and Anaheim, and toned things down. He's intense, sure, but appropriately so. He no longer seems like a raving mad man.
There was practically a mutiny when he was with the Angels, but Collins' new mix of dedication, honesty and moxie has worked beautifully in New York. As for the players who generally seem to like/love him, well, they are outmanned, as just about everyone suspected from the start.
Collins deserves a fair chance with a team with a chance. This one isn't it.
Dodgers manager Dave Roberts on Sunday announced his World Series rotation for the first four...

How should the Astros play it when one of their two aces isn't on the mound against the Do...

The former big-league infielder also worked as GM of the Puerto Rico national team
The Indians pitching coach would be getting his first MLB managerial job

In the last several years, lots of droughts have ended in MLB

The most likely scenarios are Dodgers winning in five or six games