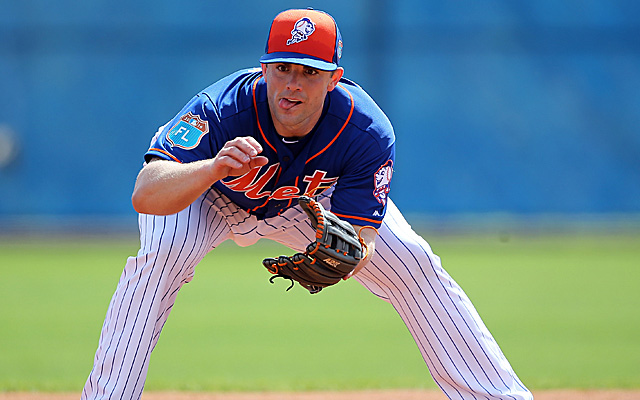 David Wright won't quit. Such is the theme of a new Men's Fitness feature by Ron Berler detailing the workout regiment Wright is using to combat his spinal stenosis -- the same condition that limited him to a career-low 38 games in 2015.
Among the top revelations are that Wright's back discomfort crept up on him last spring, like a grounder that takes a funny hop, and that he had to tweak his mechanics (and pre-game prep work) in order to lessen the pressure on his back. The workout details are a must-read for fitness nuts (or for those who aren't and who want to feel cozy about that predilection), as Wright has to go through a grueling two-plus-hour routine each day in order to suit up:
So Wright focuses on exercises like facing the side of a track-and-field hurdle with his back perfectly still and raising each of his legs slowly, in turn, over the hurdle—an effective exercise for strengthening his core and improving his rotation. Or doing the Dying Bug: lying on his back, arms and legs in the air, mimicking fast crawling. "This is hard work," Watkins says. "You have to isolate out your trunk muscles and mobilize your spine, then do these techniques designed to throw your spine off balance, and you're resisting that and keeping it up for 15 minutes, with excellent technique throughout. It's athlete's work."
Another noteworthy nugget comes from Mets manager Terry Collins, who hopes Wright will play in 135 games. That's a loftier goal than it seems, given Wright has fallen short of that mark in four of the past five seasons (albeit by a single game in 2014).
The good news for the Mets—besides Wright's commitment to making everything work, anyway -- is how their offseason additions of Neil Walker and Asdrubal Cabrera left them better positioned to handle any extended absence on Wright's part. Whereas last season Collins had to start Eric Campbell and Ruben Tejada (when Daniel Murphy was tasked with the hot corner) before the Mets acquired Juan Uribe at the trade deadline, this season Collins should be able to use Wilmer Flores as his Plan B at third base. Flores has his share of blemishes, particularly on the defensive side, but his roughly league-average bat makes him an asset off the bench.
Credit that contigency plan upgrade to executive foresight, and credit Wright's continued presence in the Mets lineup to hard work and determination.