Mets' Ike Davis could be a trade target for Red Sox, who need a first baseman
Boston has many needs, and Davis could fill one of them. The Mets have a high asking price on Davis, though.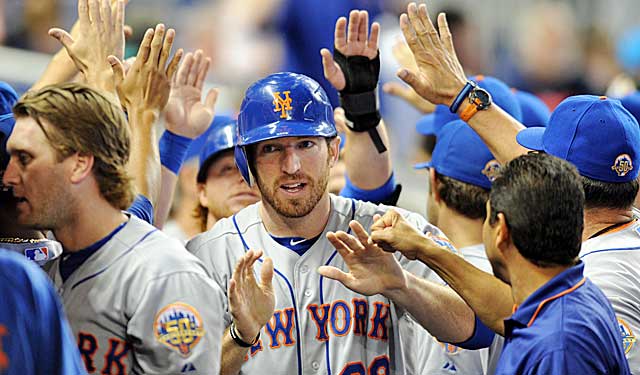 Ike Davis recovered from a poor start and has 31 homers for the Mets. (US Presswire)
MIAMI -- Could Ike Davis be a Red Sox trade target?
The Red Sox will be looking for a first baseman this winter after sending Adrian Gonzalez to the Dodgers in late August and seeing placeholder James Loney continue to struggle offensively. The Mets haven't ruled out a trade for Davis, who will be arbitration eligible for the first time.
Curiously, two Red Sox scouts -- maybe the only two scouts in attendance -- were at the Mets-Marlins game Monday night, and it's known the Red Sox seek help in the outfield, the rotation and at first base. The Mets don't have any outfielders to trade, not do they have an abundance of starting pitchers. Davis could be an obvious potential fit.
It's curious the Mets would consider trading Davis, as has been reported, since he is by far their main source of home runs (he has 31 to go with 89 RBI after a dreadful start). One possibility is an expected rise in salary, the other is that Lucas Duda's best position may also be first base.
The Mets have made increased power one of their main goals this coming winter, so trading Davis wouldn't be easy. One Mets person said they'd be seeking "a boatload" if they deal Davis.
The Red Sox, or any interested team, may want to know about reported late-night tendencies. Davis seemed surprised by that report, no incidents have been reported regarding Davis and a Mets person said that he is only "a normal 25 year old, nothing more, nothing less."
The Red Sox traded Gonzalez mostly because it allowed them to be rid of Josh Beckett and the Carl Crawford contract, but their people believed by the end that Gonzalez wasn't a good fit for Boston, as he didn't enjoy the fishbowl existence, so they want to go beyond the statistics to determine a potential fit. Loney, acquired in the Gonzalez blockbuster, just hasn't hit, as his .554 OPS in Boston is even lower than it was in Los Angeles.
Davis has played in New York for three years but missed most of one because of an ankle injury and hasn't been overly scrutinized as a young player on a losing team.
Davis turned his awful start into a respectable season. The Mets should be given credit for not demoting him when he was batting .199 in early July, and several other points early in the year. He should receive credit, too.