Mets in market for shortstop, but not willing to deal Syndergaard
The Mets will not trade righthander Noah Syndergaard in a deal for a shortstop, they say.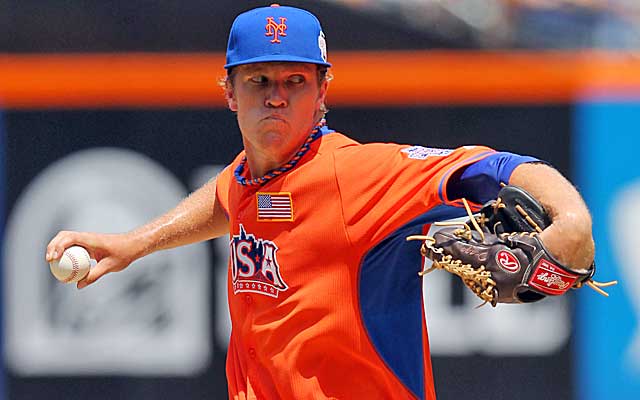 More: Spring Training | Scoreboard | FA tracker: position players | FA tracker: pitchers
PORT ST. LUCIE -- Diamondbacks and Mariners scouts were out watching Mets pitching prospect Noah Syndergaard pitch on the back fields Tuesday, but they may have been wasting their time.
The D-Backs and Mariners both have shortstops being discussed in trade talk with the Mets, and Syndergaard would be a pitcher interesting to either team, especially the Diamondbacks, who were targeting upper level arms even before losing their No. 1 starter Patrick Corbin to an elbow issue.
However, the Mets aren't willing to offer the big righthander Syndergaard in a deal for a shortstop, according to a person familair with their thinking.
That's the right call, according to a scout with another team who watched him throw Tuesday. "He has great stuff and big (guts)," the scout said. "I think he's better than (Zack) Wheeler."
The Diamondbacks have two starting quality shortstops, Chris Owings and Didi Gregorius, but are seen as more likely to trade Gregorius. The Mariners have infield prospect Nick Franklin to trade. The Cubs have a top shortstop prospect in Javier Baez, as well,  but there's no evidence he could be available,
The Mets have a decent stash of pitching prospects with also Rafael Montero, Jenrry Mejia and Jeurys Familia, who's having a great camp. Ruben Tejada is the Mets' shortstop for now, but he's had a terrible spring (he's three for 25 and had trouble defensively, as well, though Mets legend Edgardo alfonzo is working with his mental approach now). The Mets used Wilmer Flores at shortstop Tuesday, and he looked pretty good in the game.
But the Mets continue to canvass the shortstop market. They'd looked into top free agent shortstop Stephen Drew earlier, and he could become a possibility, as well, though there was a difference of opinion on a contract..
Syndergaard, acquired from Toronto in the R.A. Dickey trade, was 6-1 at Double-A Binghamton in 2013. He was sent to the minors Tuesday.
Wright was arrested at his home Friday

The former Tigers teammates were voted into Cooperstown by the 16-person Modern Era Commit...

The Yankees still have room for a good-sized signing even after Saturday's trade with Miam...
St. Louis gets some much needed help for their bullpen

Keep tabs on the top 50 free agents right here

Morrow thrived with the Dodgers last season