Mets inquired about Braun if only for a second; Cruz and Grandy in mix
The Brewers have made clear to the Mets they won't trade embattled star Ryan Braun.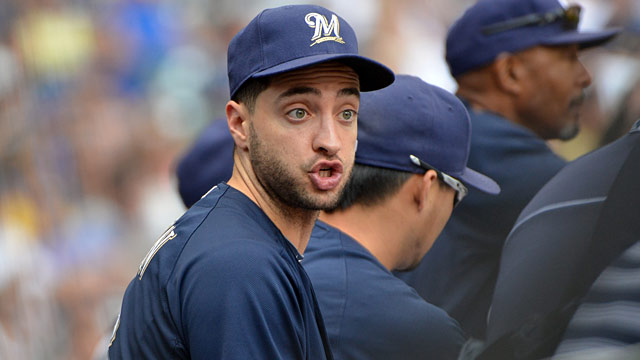 Not only did the Mets have internal discussions about embattled superstar Ryan Braun as previously reported, but they actually inquired about him with the Brewers as well -- if ever so briefly -- before their suggestion was summarily rebuffed at the GM Meetings.
Mets general manager Sandy Alderson, responding by phone to a question about whether the Mets had "checked in" on Braun with the Brewers, saying, "If you could count a four-word sentence as checking ... "
That might depend on what the actual sentence was I told him, so I asked.
"What's up with Braun?" Alderson relayed.
That was it, the briefest of inquiries. But yes, that counts ... at least here it does.
It was such a quick conversation topic, and so apparently lacking in meaning to the Mets that Alderson's boss, Mets owner Jeff Wilpon, didn't even appear to be aware of it, and he's actively involved in baseball dealings. The Mets might not even be all that interested, though they are definitely seeking a power-hitting corner outfielder, and are continuing to pursue free agents Nelson Cruz and Curtis Granderson, among others.
That the Mets had internal talks about Braun first surfaced in Matt Cerrone's Metsblog.com, though their actual inquiry had to this point remained unreported.
In any case, the Brewers clearly are not interested in moving their controversial superstar, who was suspended the final 65 games of 2013 in an agreement with MLB following the Biogenesis investigation.
Brewers GM Doug Melvin never revealed that the Mets were one of "four or five" teams to inquire about Braun. But Melvin did tell reporters after the Metsblog.com report appeared, "We have no intention of trading Ryan. There is absolutely no truth to that. We've never contacted any team about Ryan."
Melvin was accurate in what he said, and possibly was a bit extra adamant because that Mets-oriented blog went on to speculate after correctly reporting the Mets' interest in Braun that Milwaukee might well be more willing to surrender Braun than Norichika Aoki in a potential Ike Davis trade. Metsblog was right in its report about the Mets' interest in Braun, but Brewers people got a chuckle out of the idea there was any chance they would trade a player who twice led the league in OPS for Davis, who hit .205 in 2013.
The Mets, who have received criticism in New York for a smallish payroll and continuing reluctance to chase big free agents who seek $100 million contracts, such as Shin-Soo Choo (who is being pursued much more aggressively by other teams), presumably would have had to take on $135.5 million over eight years with Braun. The Brewer hit nine home runs and batted .298 with an uncharacteristically low .859 OPS in an injury-plagued 2013 before taking the suspension.
Regarding the four or five teams who inquired, Melvin reported, "I told them no."
Brewers people have talked to Braun this winter and seem comfortable he's going to be fine coming back from his agreed-upon suspension following the Biogenesis investigation. They've gotten to the point of even discussing what might be expected, at least in an occasional casual conversation. They are hopeful the two-time N.L. leader in OPS will remain a star (just as the Cardinals apparently have faith Biogenesis-connected free-agent import Jhonny Peralta will continue to be productive).
As one Brewers-connected person put it about Braun, "Even a 20 percent dropoff from 41 home runs is still 32 homers."