Mets manager Collins settles on a first baseman, and it's Lucas Duda
Duda wins the job three games into the season.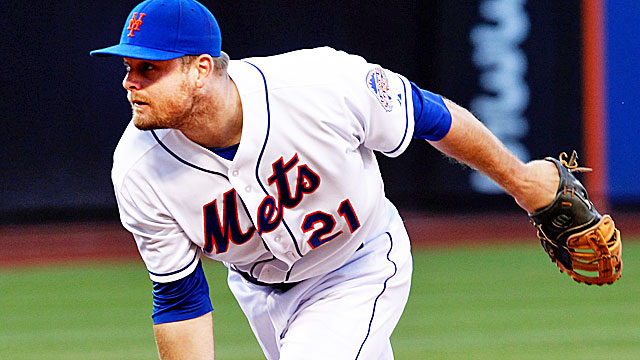 Lucas Duda gets the first full-time shot at first base for the Mets, starting Friday night.
Manager Terry Collins announced he'd pick one of the three candidates to be the starter, beginning with the series that starts Friday against the Reds, and sources indicate it will be Duda getting the nod over Ike Davis and Josh Satin.
The Mets began the year in a mini-rotation at first, but Collins has now settled on one now that all three are healthy. Davis and Duda both missed a fair amount of time in spring training, delaying the decision.
The choice of Duda should come as no great surprise since the Mets spent a lot of the offseason looking at trades for Davis, who like Duda is a lefty hitter. Mets brass prefers Duda at the moment, in part because he is a selective hitter at the plate.
The Mets had trade talks with the Orioles, Pirates, Brewers and others regarding Davis, with Pittsburgh still believed to have some interest. Satin is a right-handed hitter and a better fit to share the position with either of the others.
Cozart's coming off a big season as the Reds' shortstop

The veteran slugger spent the last eight seasons with Cleveland

The Padres may be poised for an active winter
Yes, Bryce Harper is going to make a lot of money next winter

Outfield prospect Clint Frazier might be part of the talks

Boston wants to add two big bats to their lineup, not just one