Mets' Matt Harvey throws 121 pitches in Monday's other marathon
New York Mets right-hander Matt Harvey threw 121 pitches in Monday's 15-inning loss to the Marlins. The problem: Harvey pitched only 5 1/3 innings.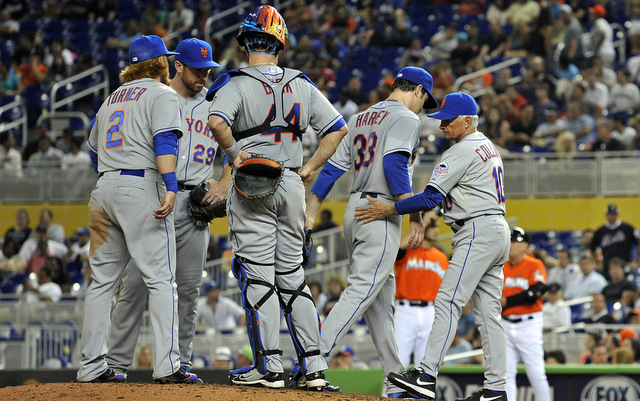 More MLB: Scoreboard | Standings | Probable Pitchers | Sortable Stats | Odds
The Angels and Athletics played a 19-inning game on Monday night, making it easy to forget the Mets and Marlins played a marathon contest of their own. Miami won the 15-inning game on Nick Green's sacrifice fly after New York took a 3-2 lead. It's always rough losing an extra-innings game after taking the lead.
The starting pitching matchup was as good as it gets on paper -- Matt Harvey vs. Jose Fernandez in a meeting of young righties -- but the matchup didn't really live up to its billing. Fernandez allowed two runs in only four innings of work while Harvey needed 121 pitches to allow one run in 5 1/3 innings.
Considering his electric first month of the season, that pitch count stands out for Harvey. It's a season-high by 11 pitches and a career-high by nine pitches, but he also went seven innings in each of those two previous games. Seven innings and 110 pitches is a whole lot different than 121 pitches in 5 1/3 innings. There's a lot more stress involved in the shorter outing.
"I felt pretty good. I felt like I could have stayed out there," said Harvey to ESPN New York's Adam Rubin after the game. "That's not OK throwing that many pitches in that little amount of innings. Obviously, I have to regroup and go back and watch some video and figure out how to change that and go seven or eight innings next time. We're going to flush today's loss and move forward."
When Harvey says it is "not OK throwing that many pitches in that little amount of innings," he's referring to his efficiency as a pitcher rather than potential injury risk. The National League average this year is 16.2 pitches per inning, and Harvey averaged 22.7 pitches per innings on Monday. It was a rough night; it happens.
Harvey's only 24 years old, and he's a big, strong guy -- listed at 6-foot-4, 225 pounds on the team's website -- so extending him for 120-plus pitches every so often isn't a big deal at all. Ideally, those 120-plus pitches would cover seven or eight low-stress innings -- the kind of starts that Harvey had in his first four outings of 2013 -- rather than in 5 1/3 stressful innings. There's nothing wrong with the Mets letting their young ace throw as many pitches as he did on Monday, but they shouldn't make a habit of letting him throw 120 pitches while laboring.
Gardenhire is familiar with the American League Central

"Homer at the Bat" is being memorialized by its own show in a unique way this weekend

It's Clayton Kershaw against Jose Quintana at Wrigley Field in Chicago
Five months is mid-to-late March, so this could impact the 2018 season

Cubs manager Maddon becomes the first manager ever ejected twice in one postseason series

Closer Wade Davis pitched two innings in Game 4 to help force a Game 5