Mets' Matt Harvey: You just hope the bad stuff stays away from him
News of Matt Harvey's injury Monday was a blow not only to the New York Mets, but for all of us who have enjoyed watching the kid during his breakout season. Now it's bite-your-nails time waiting for the inflammation to calm and a decision on surgery. ...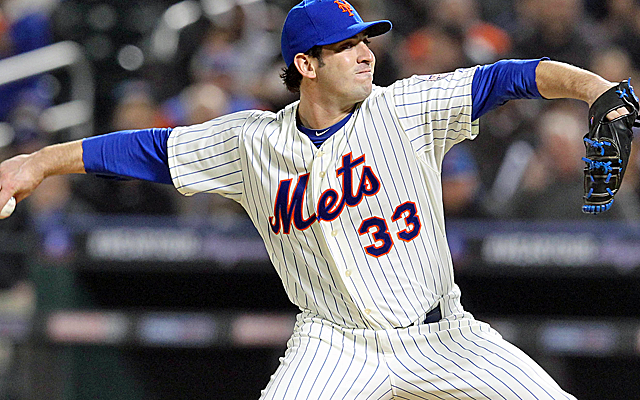 Pitching, eventually, is a losing proposition. And so we can only hope that Matt Harvey's elbow calms down, heals, he can avoid surgery and then resume his place in the constellation of today's brightest young stars.
Hope being the operative word here. Because, well, let's be honest: "Hope" is a far better word than the six that comprise the sentence, "Man, is this ever depressing news."
Harvey is only the latest reminder that no matter how cautious clubs are with special young arms, there are no guarantees.
Or, as the old pitching knucklehead Joaquin Andujar once famously said, "There is one word in America that says it all, and that one word is, 'You never know.'"
Look at the Nationals. They did everything humanly possible from the moment they drafted Stephen Strasburg to keep him in a bubble and away from even the slightest scratch. Didn't matter. By the end of his rookie season, he was headed for Tommy John ligament transfer surgery.
Look at Tim Lincecum. Before he was even drafted in 2006, scouts were saying that he was headed for major problems because of his thin frame and violent delivery. Lincecum has never spent a day on the disabled list with arm soreness. And he doesn't even ice his elbow. Never has.
The Mets were going to pull the plug on Harvey's season when he approached the 200-innings mark, and he's at 178 1/3 now. At 24, he's 9-5 with a 2.27 ERA and a 0.931 WHIP. He was the first Met to start an All-Star Game since Dwight Gooden in 1988. And how cool was it that the game was in CitiField? It was one of this summer's highlights, no matter which team you root for.
Now, Harvey is done for 2013. And we can only hope he's not done for 2014 as well. If he winds up needing Tommy John surgery, forget 2014. Start biting your nails now. You can join the Mets.
Harvey has been diagnosed with a partially torn ulnar collateral ligament, the same thing that felled the Dodgers' Chad Billingsley last August. Billingsley opted for platelet-rich plasma injections, rest and rehabilitation and came back this spring trying to pitch. Didn't matter. He underwent season-ending Tommy John surgery in April.
This isn't to say Harvey is doomed. Only a doctor reading the MRIs can say how Billingsley's tear compared to Harvey's.
But Harvey was shocked at his MRI results, and Monday's news is especially sobering not only to the Mets – especially to the Mets -- but to all of those who have so enjoyed watching him pitch during his breakout season.
Pitching, eventually, is a losing proposition. Almost always. You just hope the bad stuff stays away until a guy at least has a chance to establish himself.