Mets offering Wright eight years and at least $135M
The Mets are serious about a deal now, and the ball may be in Wright's court.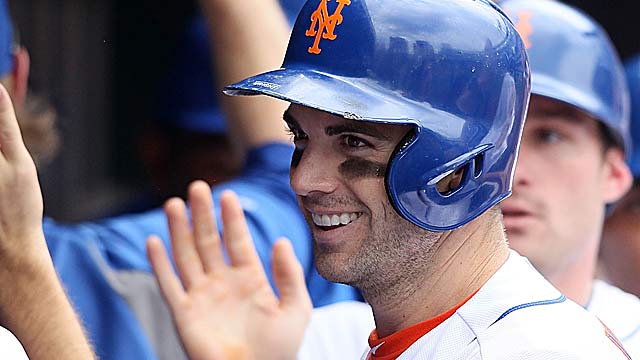 This latest offer would net David Wright about $20M a year and make him a Met for life.
(Getty Images)
The Mets are offering David Wright an eight-year deal for about $135 million-$140 million, a bid that's extremely serious and could lead to a deal, according to people familiar with the talks.
Mets people will only say talks are going "back and forth.'' But the Mets' latest offer is real enough that it could potentially make Wright a Met for life -- as he has said he wants.
There seems now, finally, be some real urgency to talk. The latest offer includes the $16-million option for 2013 that the club already exercised. So the new money would be at least $119 million over seven years, which is the very amount they once bestowed upon Carlos Beltran.
The deal would keep Wright as a Met until he's almost 38 years old.
Some folks have been suggesting money problems might prevent the Mets from re-signing Wright, but this offer gives them a real chance -- at the very least.
Mets people were hesitant to even say they are optimistic. But for the first time, they sounded like it's serious.
Wright has said all along that he prefers to remain a Met, if possible. He said in interviews throughout the summer that loyalty comes first for him, and that his favorite player was Cal Ripken Jr.
Wright declined to talk to the Mets curing the season when they sought him out, saying he didn't want to be distracted. But the sides have been talking the last two months.
The negotiations went very slowly at first. But the sides have been working hard in recent days.
The coveted right-hander would certainly be a fit in Milwaukee

We rate the best mustaches from random baseball cards because, why not?

Colon wants to break a Dennis Martinez record
The Twins have been rumored to be interested in Darvish all winter

Rolen is one of the best third basemen of all time, but you wouldn't know it based on this...

Neither Josh Donaldson nor Brian Dozier have talked about a new contract extension