Mets pitching coach apologizes for using ethnic slur in clubhouse
Mets pitching coach Dan Warthen has apologized for using an ethnic slur in front of reporters in the team's clubhouse.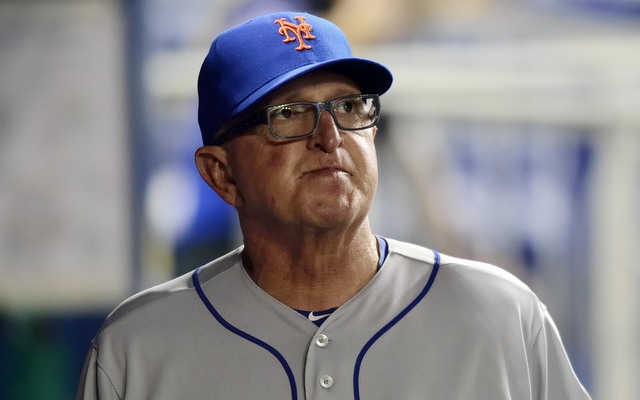 MORE: Spring Training | Scoreboard | FA tracker: hitters | FA tracker: pitchers
Major league clubhouses are full of bravado and machoism, so they are not the most politically correct places in the world. That's understandable. There is a line though, and Mets pitching coach Dan Warthen crossed that line recently.
From Stu Woo of the Wall Street Journal:
In the New York Mets locker room Monday morning, I was talking with Jeff Cutler, a 30-year old Japanese American from suburban Boston who serves as the interpreter for Japanese-born pitcher Daisuke Matsuzaka.

We were talking casually about Asian communities in America when we heard a voice behind us.

"Jeff!"

Cutler and I turned around. It was Dan Warthen, the Mets pitching coach.

"I'm sorry I called you a 'Chinaman' yesterday," Warthen told Cutler.

"It's OK," Cutler replied.

"I didn't mean to insinuate –- I know you're not Chinese," Warthen said. He paused. "I thought it was a pretty good joke, though."

"It was," Cutler said, with a small laugh.

Warthen walked away.
Needless to say, that kind of language is unacceptable even in the confines of a major league clubhouse. Both Warthen and the Mets have issued an apology:
"I apologize for the thoughtless remarks that I made yesterday in the clubhouse," said Warthen. "They were a poor attempt at humor, but were wrong and inappropriate in any setting. I am very sorry."

"On behalf of the entire organization, I apologize for the insensitive remarks made by of one of our staff members," said GM Sandy Alderson. "The remarks were offensive and inappropriate and the organization is very sorry."
Hopefully this is the end of this behavior, but I think we all know it won't be the case.
The Pirates recently shipped Gerrit Cole and Andrew McCutchen to Houston and San Francisco,...

Surely, Martinez and his agent are holding out for more

The reliever had a very good 2017 season with the NL Central champs
We don't need to discuss Chipper's Hall of Fame case, so let's have fun instead

Dioner Navarro still hopes to return someday

Christian Yelich's agent says his client's relationship with Marlins is 'irretrievably bro...