Mets plan to talk to Wright in season about long-term contract, GM Alderson confirms
Mets GM Sandy Alderson said, 'I'm hopeful he'll be here a long time,'' about franchise third baseman David Wright.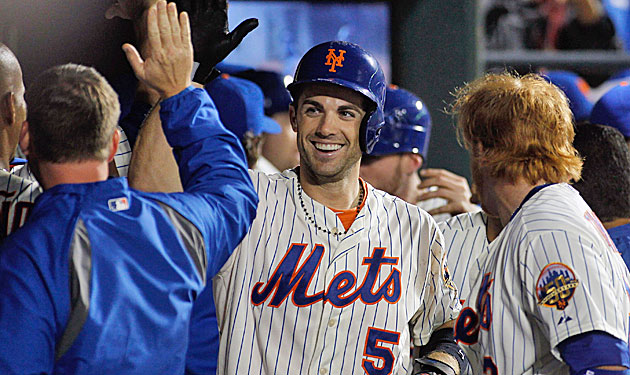 David Wright's performance has the Mets thinking long-term mega-deal. (Getty Images)
NEW YORK -- The Mets plan to talk to franchise third baseman David Wright in hopes of locking him up to a contract extension during this season, Mets GM Sandy Alderson confirmed on Tuesday.
More on Mets
Related content
"I would expect sometime before the season's over, we will have a conversation,'' Alderson said Tuesday.
Mets people haven't previously spoken on the record about in-season contract talks with Wright. Alderson was confirming what the
Wall Street Journal
reported a couple weeks back and many have long assumed. Alderson wanted it clarified after
a 6-3 win over the Phillies
that he is not suggesting there will be an official offer because he can't guarantee how the conversation with Wright's camp will go, but the Mets' goal is clear: they want a long-term deal with Wright. (Alderson also said he wants to avoid a "four-month offer watch.")
Neither Alderson nor Mets COO Jeff Wilpon would say when they planned to initiate dialogue that could lead to a new mega-offer to Wright, though Alderson said, "It's not an [urgent] situation for us. He's not a free agent, and we do have an option [for 2013]. And we have other contractual situations we've dealt with.''
But none is as important to the franchise's future as Wright. And Alderson well knows that.
"I'm hopeful he'll be here a long time,'' the GM said about Wright.
While team owner Fred Wilpon surprised folks by suggesting Wright wasn't a "superstar'' in a
New Yorker
magazine piece last year, he allowed that Wright is playing like one this year.
By making an effort in season, it gives the Mets time to consider trades during the winter should the sides not come to an agreement. Wright has not in any way suggested publicly that he'd like the Mets to take care of him financially. To the contrary, has gone out of his way to make it a non-issue. But people around the team believe he likes being a Met and will be receptive to an offer. Despite Wilpon's out-of-character comment last year, Wright had an excellent relationship with team higher-ups.
The Mets also wanted to see how Wright looked this year following his first injury-plagued season in 2011, in which he suffered a broken back and other ailments. While he had an off year, he's starring again this year for the resurgent Mets, batting .370 with five home runs and 29 RBI.
"We talked about wanting to see how things developed. We're at the quarter mark,'' Alderson noted.
While the Mets didn't strongly pursue their other home-grown star Jose Reyes last winter, there are several differences between this situation and that one. The biggest one is that the Bernie Madoff situation has been resolved favorably, meaning the Mets-owning Wilpons have no immediate threat to their ability to own the franchise, or presumably operate like a big-market team.
This deal, should they complete it, should top Ryan Zimmerman's $100-million, six-year extension with the Nats completed this spring. Wright's offensive numbers are slightly better than Zimmerman's, suggesting $100 million is the floor to any realistic deal. Wright makes $15 million this season, and the Mets have an option for $16 million next year that they plan to pick up.
Speaking of whether the Mets could get something done with Wright, Alderson repeated a comment he's made before, saying, "I don't think there are obstacles to that."
Without directly addressing Madoff, Alderson mainly meant that there is now nothing to impede them from doing a significant deal.
On the contrary, there are many reasons to suggest the importance of getting something done.
"David's been great,'' Alderson said. "He's played well defensively, obviously he's swung the bat well and he's demonstrated leadership in the clubhouse at different times."
Contreras said on Tuesday that he's willing to pay the price

And their offseason decisions prove it

Hosmer recently signed an eight-year contract with San Diego, and his usual No. 35 was spoken...
As part of the five-player deal, Brandon Drury is headed to the Bronx

Stoneman Douglas caps will be worn during Friday's spring training games

Arrieta is the top starting pitcher left on the market