Mets pushing Colon in trade talks, but trading young arm may be best move
The Mets have been pushing Bartolo Colon in trade talks. If they really want to add a difference-maker, they should move one of their young arms instead.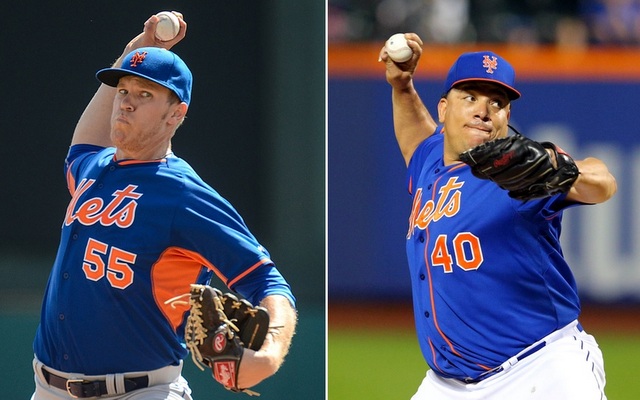 More MLB: Power Rankings | Expert Picks | Latest news & notes | Fantasy news
With only one week to go until the non-waiver trade deadline, the Mets have reportedly been pushing right-hander Bartolo Colon in trade talks with other teams. He certainly did not hurt his stock by flirting with a perfect game on Wednesday afternoon.
Colon, 41, has been a perfectly serviceable mid-rotation starter this year, living up to his two-year, $20 million contract by pitching to a 4.12 ERA in 19 starts and 126 2/3 innings. There's nothing sexy about that but plenty of teams are looking to add a reliable starter for the stretch run.
The Mets should be able to find a taker for Colon but his trade value is not particularly high, mostly because he is 41 and under contract for next year. Not many teams would are eager to take on that kind of risk. They would be trading him for a low-level prospect, not a major league piece who would help this year or even next.
The club can afford to trade Colon because they're loaded with young pitching, especially with rookie Jacob deGrom emerging as a potential force in recent weeks. He has a 3.01 ERA in 13 starts and joins Colon, Jon Niese, Dillon Gee and Zack Wheeler in the rotation. Daisuke Matsuzaka is in the bullpen as a swingman and prospects Rafael Montero and Noah Syndergaard are in Triple-A awaiting the call. Matt Harvey is due to return next year.
The Mets have an enviable amount of young pitching, which makes Colon expendable. But what if they reversed course, and instead of trading the veteran Colon, they traded one (or two) of their young arms for a more substantial haul? They'll certainly get a greater return for say, Gee or Syndergaard than they would Colon. Young players reign supreme.
The Mets are heading in the right direction but still have some rather glaring needs before being a true contender, none moreso than the shortstop position. Ruben Tejeda has shown flashes of being useful -- his .357 on-base percentage coming into Wednesday is very good -- but he's been way too inconsistent over the years. A big bat for left field is also a need but that is generally easier to find than a cornerstone shortstop.
I can't help but look at the Cubs and their shortstop trio of Starlin Castro, Javier Baez and Addison Russell. Can the two clubs get together for a deal built around one of those shortstops and New York's young arms? Doesn't that make a ton more sense for the Mets than moving Colon for a meh return? Heck, if the Rockies ever decide to trade Troy Tulowitzki, how do the Mets say no to including some of those pitchers in a package?
As always, there will be some attrition and some of New York's young pitching will flame out or get injured. That's just the way it is. Not all of these guys will work out because baseball is mean like that. Picking which guys are the right guys to keep is the hard part, but acting now and moving one or two of these guys before they turn into pumpkins is the best way for the Mets to maximize their assets.
Trust me, I know this is much easier said than done. The Mets don't have a crystal ball and there's no way of knowing which guys are the right guys to keep with any certainty. It's a risky call and it could blow up in their faces. They could move Colon, get a minor return, keep all their arms and let the game weed out the best of the bunch for the future. That's a defensible strategy. If they want to be bold, using that enviable young pitching depth to fill the need a shortstop is the way to go at the trade deadline.