Mets: Santana wasn't in pitching shape when he got to camp
The team was surprised he wasn't ready to pitch when he got to camp. Agent Peter Greenberg said Santana was "burned out'' after a roller-coaster return year and rested this winter.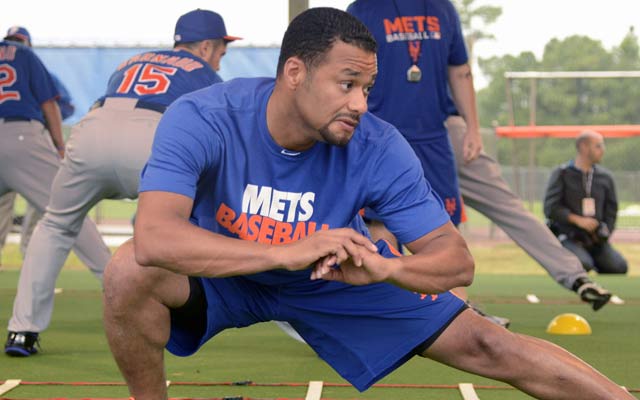 The Mets believe ace pitcher Johan Santana wasn't in pitching shape when Mets camp began, which is what led to his shutdown early in camp.
The team has found no soundness issues with his arm, beyond him not being ready to go. He's working hard now so he won't miss his Opening Day start, which is in jeopardy.
"(The) arm seems to be fine, (he) just was not in pitching shape when he arrived,'' Mets general manager Sandy Alderson said by text.
The Mets were surprised Santana wasn't in pitch shape, and couldn't quite understand why Santana thought he could pitch for Venezuela in the WBC when they determined he wasn't ready to throw for them.
Pretty early in camp the Mets indicated to him they weren't going to approve his request to pitch in the WBC, as is their right for players who ended the 2012 season on the disabled list, leading to his withdrawal from the event.
Santana is now doing long tossing and is slated to throw live batting practice Tuesday, which will the first real pitching session since he was shut down a couple weeks ago.
"He tried to rest physically and mentally (this winter) and use spring training to get in shape,'' Santana's agent Peter Greenberg said by phone. "The goal was to be ready Opening Day or as close as possible. Mentally, as much as physically, he was burned out. He decided he needed a full break.''
Santana got away from things this winter, spending a large part of the time in Venezuela setting up a sports complex and with his family. After a rigorous return year that included the franchise's first ever no-hitter in a heroic 134-pitch outing, an ankle injury and a rough ending, Greenberg said, "He wanted to try to get away.''
Between, his late-August shutdown and the winter though, the Mets apparently expected him to be ready to pitch at the outset of spring training. He is still the leader of the staff and was originally penned into the Opening Day start.
Santana toiled hard to return from shoulder surgery last winter after coming back from elbow and knee surgeries the previous two winters. "He worked really, really hard coming back from shoulder surgery,'' Greenberg said.
Mets people have described Santana's latest issue as "fatigue in his left shoulder,'' and he's been trying to build arm strength to ready himself for a possible Opening Day start, which looks pretty iffy now. Mets manager Terry Collins has hinted to Mets writers that young lefthander Jonathon Niese may get the Opening Day call if Santana isn't ready to go.
Santana threw in the pen twice before the Mets shut him down after noticing a lack of arm strength. He's been working on building back his strength, but time is running short for Opening Day. Collins said he was still hopeful Santana would make Opening Day, but told Mets writers, "If he's not ready for Game 1, I think he'll be ready for Game 4.''
Santana provided the Mets' best highlight of the 2012 season when he threw the franchise's only no-hitter June 1, an 8-0 victory over the Cardinals. Collins was hesitant, and even emotional, about letting the game Santana finish the gem, which he did in 134 pitches.
Santana, a very tough player who has a long history of trying to pitch when less than 100 percent, finished the season 3-7 with an 8.27 ERA; he allowed at least six runs in his final five starts, posting a 15.63 ERA in that span. On Aug. 23 he was shut down by the team for what was described a lower back inflammation.
Greenberg said he believes Santana's season went downhill after his ankle was stepped on while covering first base in the game after the no-hitter, with the injury throwing off his mechanics. An MRI revealed some ligament stretching in the ankle, Greenberg said, but Santana characteristically continued to try to pitch. "Fatigue started setting in,'' Greenberg said. "That's why he had a bad second half.''
Santana remains the ace of the team but he could become a candidate for a July trade if he pitches well the first few months, he shows he's healthy and the Mets prove not to be a contender. He is to make $25 million this season and is owed a total of $30.5-million through the end of the year, including the $5.5-million buyout for next year. He is in the final guaranteed year of his $137.5-million, six year Mets deal.
The Diamondbacks outfielder was not impaired, he was just going way too fast

MLB can unilaterally implement rule changes, which will also include limits on mound visit...

If the MLBPA wants to fix MLB's economic system, it should push for more money for young p...
Fans aren't happy Gerrit Cole and Andrew McCutchen have been traded away

Acuna is arguably the best prospect in baseball

Kent had a good career, particularly with the bat