Mets say Zack Wheeler was tipping pitches Tuesday night
After six shutout innings in his debut, highly-touted Mets rookie Zack Wheeler gave up four runs in 5 1/3 innings on Tuesday against the White Sox. The Mets believe they know why; Wheeler, they say, was tipping his pitches.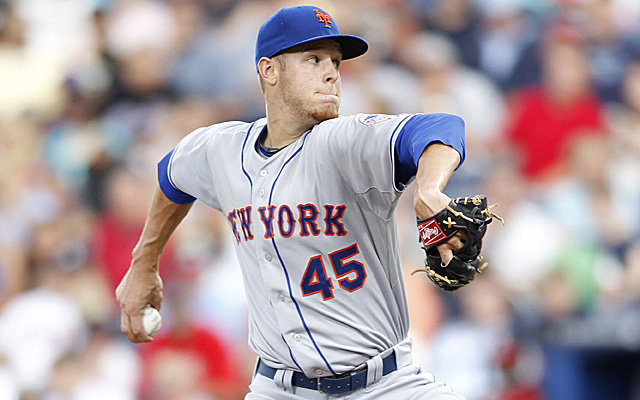 More MLB: Scoreboard | Standings | Probable Pitchers | Sortable Stats | Odds
Mets rookie right-hander Zack Wheeler is off to a rather respectable beginning to his MLB career.
Coming off six shutout innings his first time out against a good Braves team, however, Wheeler gave up four runs in 5 1/3 innings to the White Sox on Tuesday evening. And the Mets believe they know why.
"There's a definite difference in the arm angles on his different pitches," said Mets pitching coach Dan Warthen, who explained why the White Sox oftentimes knew what was coming.

--snip--

Said Warthen: "They took a lot of good breaking balls, so there's a good chance they recognized it early."
Obviously, pitching in the major leagues comes with a learning curve, and part of it is knowing that big-league hitters are worlds better at everything than minor-leaguers, including spotting tells given by the opposing pitchers.
And my biggest takeaway here is that if Wheeler was indeed tipping his pitches and the White Sox had caught on, it's pretty impressive that he only allowed four hits and four runs in 5 1/3 innings. It would be a testament to Wheeler's outstanding stuff that a major-league team couldn't knock him around the yard any better than that, considering they knew what was coming -- again, if they knew.
Wheeler, 23, is 1-0 with a 3.18 ERA, 1.41 WHIP and eight strikeouts in two starts. His problem -- other than tipping pitches -- so far has been control. He has issued eight walks, hit one batter and uncorked a wild pitch in 11 1/3 innings.
Still, most signs point to Wheeler joining Matt Harvey as the club's frontline pitchers of the future. Wheeler just needs to learn to make his delivery look the exact same, regardless of what pitch he's gonna throw.
Granderson heads north of the border for his age-37 season

What did the Pirates get in return for their franchise player?

Rivero could remain in Pittsburgh for some time to come
The White Sox, Angels, Athletics, Orioles and Marlins are the holdouts after Blue Jays fol...

The Pirates have several attractive trade chips if they decide to go into a full rebuild

Gerrit Cole was traded over the weekend and now McCutchen is on the move