Mets starter R.A. Dickey on pace for historic knuckleball season
Mets starting pitcher R.A. Dickey is white-hot right now. He dominated the Nationals on Thursday and is on pace for one of the best seasons ever for a knuckleballer not named Phil Niekro.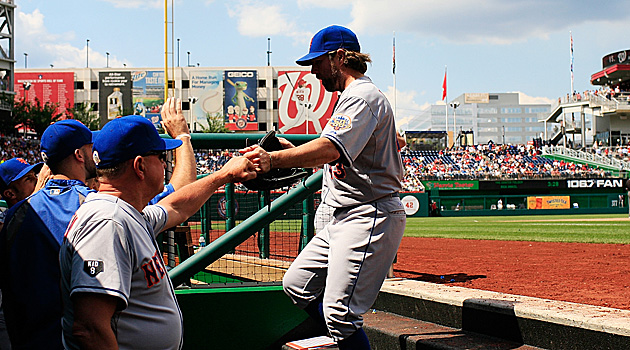 Mets
starting pitcher
R.A. Dickey
is white-hot right now. He dominated the
Nationals
Thursday and has now thrown 24 2/3 consecutive scoreless innings. His season-long totals are sparkling, as he sits with a 9-1 record, 2.44 ERA, 1.04 WHIP and 78 strikeouts in 81 innings. Of his 12 starts, 11 have been of the statistical "quality start" variety. The Mets are 10-2 in his starts and Dickey is certainly headed to
Kansas City
for the All-Star Game next month. It would be his first.
As he continues to throw gem after gem, however, I can't help but look a bit further than the All-Star Game.
Being that Dickey is a knuckleballer -- by which I mean he predominantly throws the knuckleball, as this category doesn't include pitchers who only occasionally mix one in -- we could be looking at an historic season. Dickey is well on his way to having the best season a knuckleballer has had since 1980.
Why 1980? Because Hall of Famer Phil Niekro has the market cornered on great seasons by knuckleballers and his last great season was 1979.
Here are the five best seasons by a knuckleballer since 1980, in order -- using WAR (Wins Above Replacement player) by
baseball-reference.com
:
| | | | | | |
| --- | --- | --- | --- | --- | --- |
| Knuckleballer, year | IP/CG | W-L | ERA | WHIP | K/9 |
| Phil Niekro, 1982 | 270/16 | 17-12 | 2.47 | 1.07 | 4.3 |
| Charlie Hough, 1985 | 250.1/14 | 14-16 | 3.31 | 1.12 | 5.1 |
| Tom Candiotti, 1988 | 216.2/11 | 14-8 | 3.28 | 1.28 | 5.7 |
| Tom Candiotti, 1993 | 213.2/2 | 8-10 | 3.12 | 1.23 | 6.5 |
| Tim Wakefield, 1995 | 195.1/6 | 16-8 | 2.95 | 1.18 | 5.5 |
Dickey's "on pace" numbers for this season: 230 innings pitched, two complete games, 25-2 record, 2.43 ERA, 1.04 WHIP and 8.7 K/9. Note that the record and rate stats would be the best in each of those categories compared to the above five seasons. Dickey has also currently amassed 2.3 wins above replacement, baseball-reference version, in 12 starts and he's on pace to make 34 starts. In the above chart, Niekro had 6.0 WAR and Wakefield had 4.7 WAR, with the others obviously falling between. And Dickey's pace places him a sliver above Niekro.
Next, there's this: If NL Cy Young voting were held right now, R.A. Dickey would absolutely be in the mix. In fact,
ESPN.com's "Cy Young Predictor" has Dickey as first in the NL
.
Guess how many knuckleballers have
ever
won a Cy Young? Zero.
This isn't to say Dickey will absolutely keep up this pace. He's surely not going 25-2 over the course of the season, and with the unpredictability of the knuckleball -- for pitchers, catchers and hitters alike -- there's the chance that he has a few more bad outings like he had on April 18.
Still, he seems awfully locked in right now and it's hard to bet against him.
R.A. Dickey has emerged as one of the best stories of the 2012, and not just because he climbed Mount Kilimanjaro this past offseason. Perhaps he keeps the storybook season going and makes history on the mound as well.

New Mexico broke the school and WAC single-game run record with a 39-0 victory over Mississippi...

It's the first Saturday slate of spring training games, and Ohtani will be taking the mound...

The Tigers are very early in their rebuild and they're counting on Miguel Cabrera to rebound...
The Grapefruit League and Cactus League seasons started on Friday

Data will be collected and then used to determine whether humidors are necessary in 2019

Spring training play began on Friday, and the Stoneman Douglas tragedy was on the mind of MLB...