Mets will not use outfield platoons; Collin Cowgill wins center field job
The Mets will not use outfield platoons at the start of the season according to manager Terry Collins. Also, Collin Cowgill has won the center field job outright.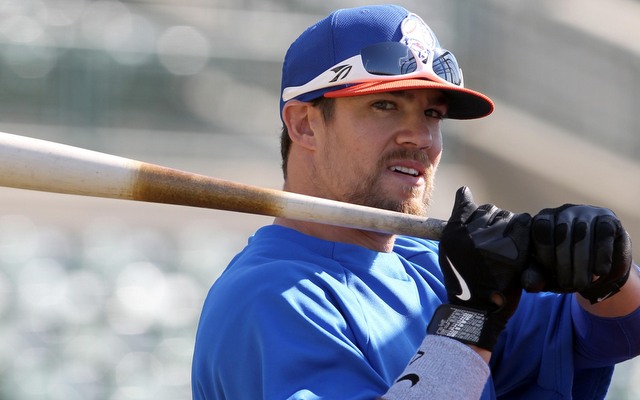 Mets manager Terry Collins announced on Saturday that he will not use platoons in the outfield to start the season, reports Adam Rubin of ESPN New York. Collin Cowgill won the center field job outright and will be flanked in the corners by Lucas Duda and Marlon Byrd.
"He had a pretty good spring," said Collins of Cowgill. "He hit righties as good as anybody. If it doesn't work out, we've got [Kirk Nieuwenhuis] there. So we've got some options."
Cowgill, 26, was acquired from the Athletics in a minor trade this winter before going 19-for-62 (.306) with four homers and four steals in 24 spring games. Collins said Nieuwenhuis, Mike Baxter and Jordany Valdespin -- all left-handed batters -- will get opportunities off the bench. Byrd and Cowgill are both righties while Duda is a lefty. Valdespin has plenty of infield experience as well.
"One of the things we've got to make sure we do, that's cover ourselves defensively," said Collins. "Be it center field, be it late for Lucas or whatever it might be, [Nieuwenhuis is] the best outfielder we've got, in my opinion. Defensively, he can really play center field. So we thought we could take him ... I'm sure he's going to get a lot of playing time. But he does give us a lot of security."
The Mets are expected to have one of the weakest outfield units in baseball this year. Cowgill owns a 75 OPS+ in 216 career games with Oakland and the Diamondbacks while Byrd managed an 81 OPS+ over the last two years before being suspended for a failed performance-enhancing drug test. Duda put up a 98 OPS+ last year and is coming offseason wrist surgery.
Jonah Keri talks Toronto Star columnist Rich Griffin

Our annual look back at the preseason predictions and rankings shows lots of good and bad

Keep it locked right here for everything you need to know about the world of baseball Tues...
There have been several racially charged incidents at Fenway Park this year

Washington's right fielders have sputtered offensively since Harper went down

The good news? Wichita still has a chance to win the series Tuesday night