Mexico out-hits, out-pitches USA in WBC opening-game disappointment
Team USA needs to win its next two to have a decent chance to advance to round two in Miami following a stinker in the opener in Phoenix.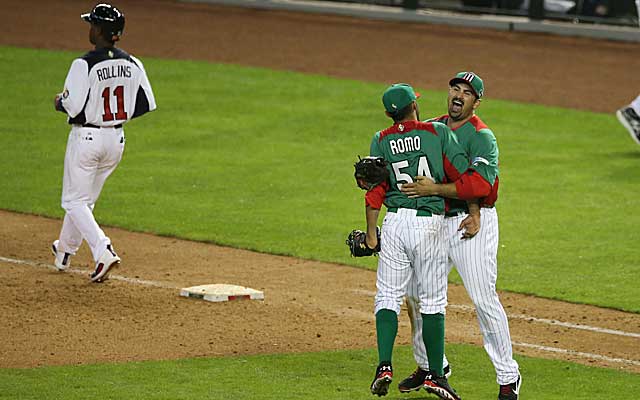 PHOENIX -- Team USA third baseman and WBC enthusiast David Wright made two nice backhand plays and contributed two hits, including a run-scoring single. Second baseman Brandon Phillips made a neat diving play to his right. Giancarlo Stanton, the best No. 7 hitter you'll ever see, hit two balls to the warning track with men on base.
That is pretty much the extent of the Team USA highlights in a dreary World Baseball Classic opener, a 5-2 defeat to Mexico that left the Americans in a precarious position with two more games to play here. The chance to advance to round two in Miami is far from a certainty now.
The mostly pro-Mexico crowd, with attendance of 44,256 in total, loved it. But commissioner Bud Selig seemed to bite his tongue and keep his disappointment to himself while alluding to the game in an impromptu fourth-inning interview. Team USA was already down 4-zip by then.
More on WBC
Columns

Related Links
Clearly, this is not how they drew it up. Team USA got a nice, neat draw, without Venezuela or the Dominican Republic in this pool. This was supposed to be cake, or close to it.
Instead, Mexico routed the USA, outplaying the Americans in every facet. Team USA hitters looked limp, its pitchers over-matched.
"It's really no secret. They pitched better, they hit better,'' Wright said. "They outplayed us in every area of the game.''
Mexico was quite impressive, give them that.
Scouts have been impressed all along by Mexico's array of arms, and the early starting combo of Yovani Gallardo and Luis Mendoza did not disappoint. But this isn't a lineup exactly stacked with major-league stars, save for Dodgers first baseman Adrian Gonzalez, who hit a two-run bomb off R.A. Dickey to highlight a solid attack.
Even with A-Gon batting cleanup for Mexico, no paper Team USA looks like it should overwhelm Mexico. But USA officials were privately fretting that most of the very best American pitchers stayed home for a variety of reasons.
Dickey, the 2012 National League Cy Young winner, was supposed to give Team USA a Game 1 advantage, at least. But Dickey was hit hard, allowing four runs in four innings, as the fast knuckleball that's supposed to be at its best indoors (Chase Field's roof was closed because of rain) was no mystery to Mexico's hitters.
"It's sad,''' Dickey said. "You are given the opportunity, and you feel like you've blown the opportunity.''
Dickey got hammered, giving up a series of hard-hit balls, none harder than Gonzalez's two-run bomb that slammed off a wall just a couple inches to the right (the home-run side, as designated by a yellow line) in right-center field. The ball, originally called a homer, was reviewed at the request of USA manager Joe Torre, but that just became another loss for USA.
Gonzalez is understandable, but Dickey gave up hits to a lot of guys you wouldn't expect could touch him, including journeyman utilityman Ramiro Pena, ex-big-leaguer Karim Garcia and the currently out-of-work Jorge Cantu. Just about everyone in the Mexico lineup hit a ball hard, or two maybe.
Leadoff man Eduardo Arredondo played a brilliant game. Sporting an Ichiro hitting style and a .400-plus on-base percentage in the Mexican League, he had three hits. He also ran down a long drive by Braun in right-center.
"A lot of those guys have professional experience,'' Dickey said in answer to a question about how most of the Mexico lineup isn't in the big leagues. "It's a good team. If you don't execute at this level, you're going to get beat. And we didn't execute.''
Meanwhile, team USA struggled to get much going offensively, first against Mexico starter Gallardo, then Mendoza, the Royals right-hander. Gallardo pitched tough for 3 1/3 innings, throwing hard and looking ready. "He kept it off the barrel,'' is the way Rollins put it.
Wright had a very nice game, but Team USA was an offensive disappointment. The only extra-base hit was a bloop double by Ryan Braun.
Stanton did give two balls a ride, one to center and the other to right. Had those two balls gone out, that would have meant five more runs, and possible victory. But alas, they did not.
Garcia -- a longtime MLB journeyman who fashioned a nice career in Japan and is now playing in the Mexican League but has the look of a beer-league ballplayer -- styled on the catch of Stanton's second deep drive that threatened to tie the score in the eighth inning, doing a Rickey Henderson kind of snatch catch. They were feeling good. Even Gonzalez seemed animated.
"We missed a couple balls that were inches from tying the game,'' Rollins said. "But that's baseball.''
Also part of baseball is the reality that any team can win, and sometimes the more prepared team will beat the more talented team. Team USA players aren't making excuses, but unlike some of the other teams, they just came together Sunday to start practicing after a few weeks of spring training.
Team USA is now an unappealing 7-8 overall in WBC play, which can't do much for its confidence. "It is what it is. That's where we sit right now,'' Rollins said.
USA, which failed to lure the biggest pitching stars, will turn to Ryan Vogelsong, who resurrected his career in San Francisco and has shown the ability to win big October games. If they can't win this one, they'll be on the cusp of elimination. The talk of making it to Miami is on hold for now, though Rollins allowed, "That's the plan.''
First on the agenda, though, is red-hot Italy. Rollins had one wish for the Italian team that's already won two games here. He said, "I hope they're out drinking and partying it up."
Miami appears far from a certainty now that they'll likely need to win two straight to even have a decent chance make it. And even that doesn't make it a guarantee.
"If we won today we would have had the same mindset,'' Torre said.
Torre added that they need to take "a postseason approach,'' in every game, including the next one. Things already look bleak, though maybe Torre didn't quite characterize it that way.
"We definitely have our backs against the wall,'' Rollins said. "I enjoy it. We have to find a way to dig down deep. You have nothing to lose.''
Well, except maybe a little national pride, that is.
The lefty starter is coming off a terrible season

After acquiring Ian Kinsler and Zack Cozart in recent days, the Angels are trending upward

Cozart's coming off a big season as the Reds' shortstop
The veteran slugger spent the last eight seasons with Cleveland

The Padres may be poised for an active winter

Yes, Bryce Harper is going to make a lot of money next winter