Michael Bourn has hamstring surgery, faces 4-6 week recovery
Indians center fielder Michael Bourn had a minor surgery on his left hamstring Tuesday, but he's expected to be fine far in advance of next spring training.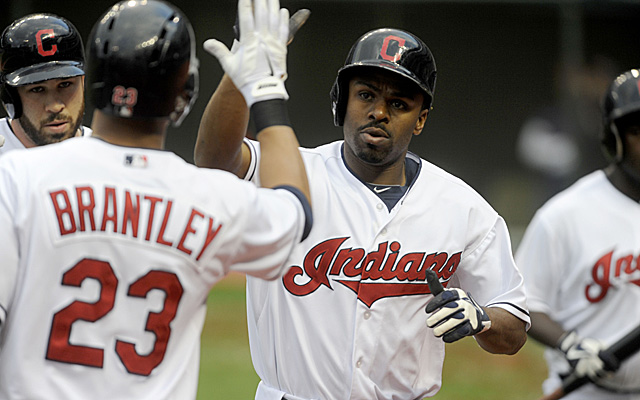 Indians center fielder Michael Bourn underwent a minor surgical procedure in his left hamstring Tuesday, Major League Baseball announced. In the announcement, it was noted that Bourn will begin his offseason training program in four to six weeks.
The surgery comes as a bit of a surprise since Bourn hadn't been publicly known to have any issues in his hamstring during the season. He had a finger laceration, wrist issues and then calf tightness, but the hamstring thing is new information.
Bourn, 30, hit .263/.316/.360 with 21 doubles, six triples, six homers, 50 RBI, 75 runs and 23 stolen bases this season for the wild-card Indians. It was the first year of his four-year, $48 million contract.
Considering that even taking as much as six weeks to heal means Bourn would be back to normal by the first week of December, this shouldn't affect next season at all.
Walker was a tremendous all-around player, but Coors Field undoubtedly inflated his career...

A beardless Wilson says that he tried to outrun the police on the second day he had his driver's...

The Diamondbacks outfielder was not impaired, he was just going way too fast
MLB can unilaterally implement rule changes, which will also include limits on mound visit...

If the MLBPA wants to repair MLB's salary structure, it should push for more money for young...

Fans aren't happy Gerrit Cole and Andrew McCutchen have been traded away