Michael Pineda wins job in Yankees starting rotation
After not throwing a pitch in the majors the last two seasons, Michael Pineda has won the Yankees' fifth starter job.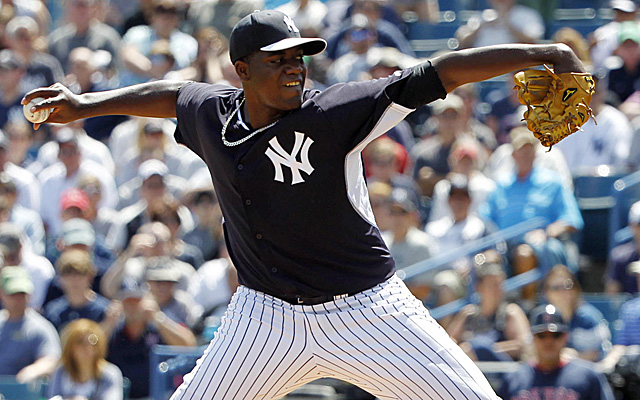 MORE: Spring Training | Scoreboard | Team previews
Michael Pineda's long journey back to the majors is now complete, as he's won the Yankees' fifth starter job. Manager Joe Girardi officially made the announcement to reporters Tuesday afternoon.
Pineda was an All-Star for the Mariners in 2011 and finished fifth in Rookie of the Year voting. He was traded the ensuing offseason to the Yankees for then-highly touted prospect Jesus Montero. In the spring of 2012, Pineda came down with a torn labrum in his throwing shoulder and missed all of that season while recovering from surgery. Last season, he was only able to manage 10 minor-league starts, but didn't get back to the bigs.
This spring, though, Pineda has looked the part of a guy who is back. In 15 innings, he's struck out 16 batters while walking only one. He has a 1.20 ERA and 1.00 WHIP.
Pineda will join CC Sabathia, Hiroki Kuroda, Masahiro Tanaka and Ivan Nova in the Yankees' rotation. He's definitely a wild card, as there's big upside, though the injury downside remains.