Michael Wacha carries Cardinals to NLDS Game 4 win: Quick hits
Thanks to rookie right-hander Michael Wacha, the Cardinals will live to play a NLDS Game 5 on Wednesday.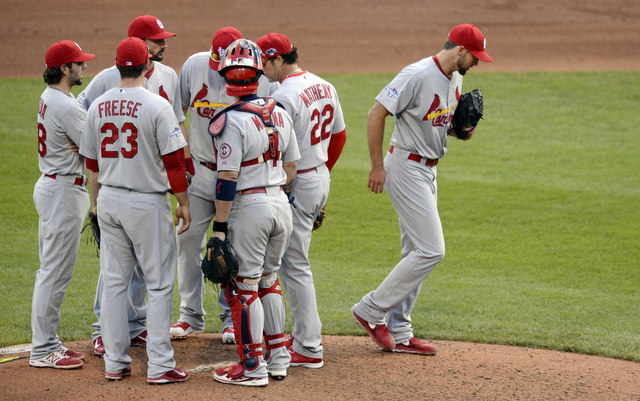 More NLDS: Game 4 box score | Game 1 quick hits | Game 2 quick hits | Game 3 quick hits
My goodness, talk about a huge performance in a must-win game. Rookie right-hander Michael Wacha led the Cardinals to a win in NLDS Game 4 by taking a no-hitter into the eighth inning before allowing a solo home run to NL homer king Pedro Alvarez. Completing the no-no would have been nice, but winning the game to force a winner-take-all Game 5 was the most important thing. Let's break down the 2-1 St. Louis win.
Hero: Wacha. It can't be anyone else. In his 10th career start at the big league level, the rookie held Pittsburgh to just the one run on just the one hit in 7 1/3 innings. He struck out nine and walked two. Did I mention he did it on the road in front of a raucous PNC Park crowd? Because he did. Oh, and he did all this after losing a no-hitter with two outs in the ninth in his final regular season start. Have yourself a day, Mr. Wacha.
Goat: It seems unfair to pick a goat in this game, but since we have to, I'll go with Charlie Morton. The Pirates starter allowed two runs on three hits and four walks in his 5 2/3 innings of work, which is a decent start in my book. Unfortunately, his counterpart was far better.
Turning point: Matt Holliday crushing his two-run homer in the sixth inning. Those were all the runs the Cardinals would need given how well Wacha was pitching.
It was over when: Andrew McCutchen popped out to shallow center field to end the game. Neil Walker had, uh, walked as the previous batter to bring the likely NL MVP to the plate as the tying run. I'm pretty sure the park would have exploded if McCutchen went deep there, but alas.
Next: Game 5, for all the marbles. Or at least a trip to the NLCS. Adam Wainwright and A.J. Burnett is the scheduled pitching matchup, but Gerrit Cole could instead get the ball for the Pirates considering how well he pitched in Game 2 (and how terrible Burnett was in Game 1). Game 5 will start at 5:00pm ET on Wednesday at Busch Stadium in St. Louis.
Where might the Orioles third baseman land?

Kinsler will slot in at second base for the Angels

The Marlins got a better return for Ozuna than Stanton or Gordon
The two teams are going about things in very different ways

The Marlins are indeed in teardown mode under new ownership

The Marlins still have more attractive pieces