Michael Wacha loses no hitter in eighth inning of NLDS Game 4
Michael Wacha delivered a big performance and was nearly unhittable performance in Game 4 of the NLDS.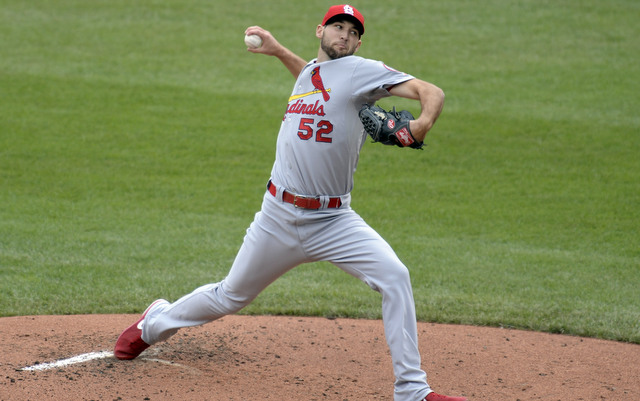 More NLDS: Game 1 quick hits | Game 2 quick hits | Game 3 quick hits
Down two games-to-one in the best-of-five NLDS, the Cardinals needed a big outing from right-hander Michael Wacha on Monday afternoon, and boy did he deliver. The rookie held the Pirates without a hit before Pedro Alvarez hit a monster solo homer with one out in the eighth inning.
Wacha, 22, had thrown 91 pitches before allowing the homer, so his pitch count was in great shape to go the distance. The only base-runner he allowed before the homer was a Russell Martin walk to leadoff the sixth. Wacha struck out nine and allowed only five of 23 batters faced to hit the ball out of infield before Alvarez went deep.
In nine regular season starts (and six relief appearances), Wacha pitched to a 2.78 ERA (131 ERA+) and 1.10 WHIP in 64 2/3 innings. He had a 1.72 ERA in five September starts and flirted with a no-hitter in his final start before losing it on an infield single with two outs in the ninth.
There have been only two no-hitters thrown in postseason play -- Don Larsen's perfect game in the 1956 World Series and Roy Halladay's no-hitter in the 2010 NLDS. The last Cardinals no-hitter was thrown by Bud Smith in September 2001. The Pirates were no-hit by Homer Bailey last September.
Wacha, the 19th overall pick in the 2012 draft, finished the game having allowed just the one run on one hit and two walks in 7 1/3 innings.
Ferrell somehow avoided going to the ground

Plus, we saw a possible AL Wild Card Game preview in the Bronx and lots more from around M...

The Pirates disappointed in 2017. Will 2018 be any different?
Let's see how SportsLine forecasts the race for MLB's 10 playoff spots

This has only previously happened twice in history in non-strike seasons

Plus the AL West champ has been crowned and more