Michael Wacha's developing curveball
Cardinals right-hander Michael Wacha's reputation as a two-pitch pitcher seems to be a thing of the past.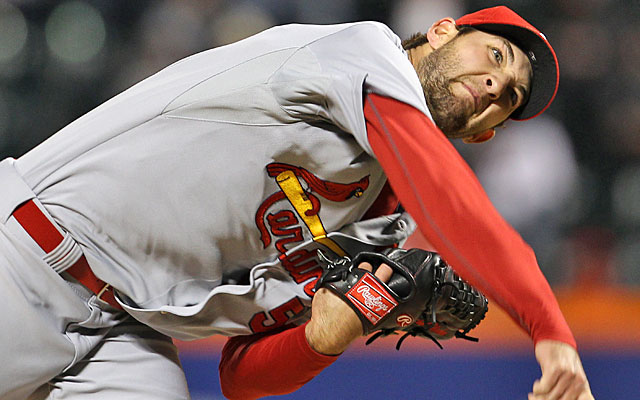 More MLB: Power Rankings | Expert Picks | Latest news & notes | Fantasy news
Cardinals right-hander Michael Wacha, before his impressive run in the 2013 postseason, seemed to be something of a two-pitch starter. Wacha made hay with a plus fastball and changeup, and helped himself by flashing excellent command and a knack for moving the ball inside and outside and changing levels. Still, rare is the starter who can thrive long-term with just two pitches, even when the secondary offering is a changeup that tames the opposite side. 
During the course of the Cardinals' pennant charge, however, Wacha increasingly went to his curve. It looked a bit crude and loose at times, but it was enough to keep hitters just a little uncertain. As this Viva El Birdos post notes, Wacha wasn't so much unveiling a breaking ball for the first time as he was dusting it off. Indeed, Wacha made good progress with his curve during his 106 minor-league innings. 
Speaking of the curve, Wacha's 2014 pitch mix is not unlike what he was doing last October, when he won NLCS MVP laurels. That is, he's going to the curve roughly 12 percent of the time vs. 5.0-percent usage during the 2013 regular season. That plus increased use of the cutter, which functions not unlike a slider, means you're seeing the makings of a full repertoire. It's Wacha's curve that's of interest, though. 
In terms of velocity, Wacha's sits in the middle -- in the mid- to high 70s. It's not a Barry Zito curve, but it's also not a Justin Verlander hammer. The movement and depth, though, are there. In fact, Wacha's vertical break on his curve is greater than the league average, and he also shows better-than-average glove-side run, especially this season. Given those raw ingredients, Wacha has a potential out pitch, provided he improves his command with further use. 
This brings us to Wednesday night's perfectly bizarre outing against the Mets. Wacha lasted just four innings on a windy evening in Queens, and over that span he struck out 10 and walked five. Per Brooks Baseball, 14 of Wacha's 93 pitches were curves, which qualifies as "heavy usage" by his usual standards. Let's take a look at some of them. 
First, here's one to David Wright ...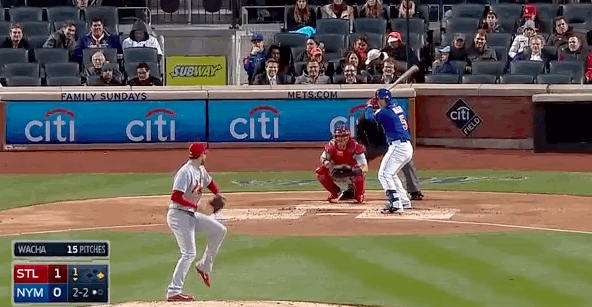 Not an ideal pitch to swing at, obviously, but credit to Wacha for making it alluring enough for Wright, a very disciplined hitter, to offer at. Evident is the sharp downward break as it reaches the plate. 
Here's one to Kirk Nieuwenhuis in the third ...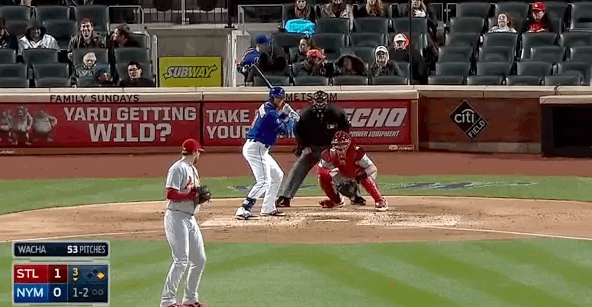 Woof. That's more than a foot of sharp, late, tight downward action.
Now Curtis Granderson ...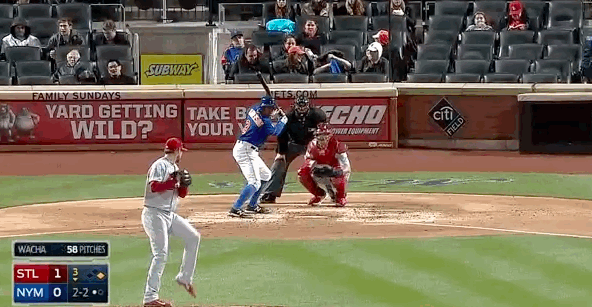 This one's particularly encouraging, in that Wacha froze an opposite-side hitter with power. There's of course danger in throwing a pitch with glove-side action to an opposite-side hitter, in that it can easily find the barrel. However, Wacha against Granderson was able to start it over the middle of the plate and wound up nicking the inside corner. It's easy to see how even slightly missing his spot could've ended badly for Wacha, which suggests confidence in his stuff. 
Finally, here's Chris Young ...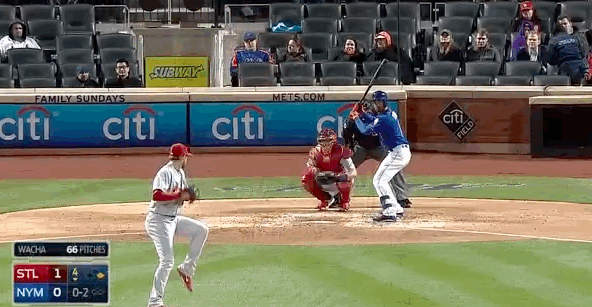 Here's that same horizontal run against a right-handed batter. Whereas Wright whiffed on a similar pitch, Young gets teased into making weak contact. The Cardinals, still influenced by the lessons of Dave Duncan, love ground balls, and the curve is a good pitch for just that. Indeed, Wacha's curve this season boasts a 60-percent groundball rate, and it's his increased use of that pitch that has allowed him to significantly ramp up his ground-ball/fly-ball ratio. 
Keep that in mind that when you're looking at a 22-year-old's third-best pitch, and he's able to get these results from it. His command of the pitch is also improving: In 2013, Wacha spotted his curve for strikes just 48.1 percent of the time; this season, that figure is up to 65 percent (source: FanGraphs).
Counting the postseason, Wacha now has an ERA of 2.59 in 125 1/3 innings and the peripherals to back it up. Those outputs in tandem with his emerging repertoire mean we're talking about an ace in the making. 
Marcell Ozuna figures to be the next Marlins star on the move

Several relievers have signed in the last two days

Several teams are interested in the switch-hitting first baseman
Neshek and the Phillies are closing on a two-year contract

And the team that first drafted Cole is interested

This scout was SUPER into Jeter