Michael Young willing to waive no-trade clause for Red Sox, Yankees
Michael Young will now waive his no-trade clause for either the Red Sox, Yankees or Rangers. Previously he'd only been reported to want to waive it for a return to Texas.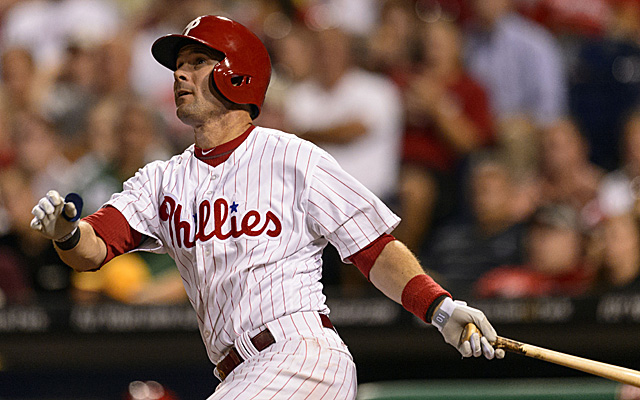 Follow live: 2013 Trade deadline rumors, updates and live chat
As things stood Tuesday, Phillies third baseman Michael Young was reportedly only willing to waive his no-trade clause for a return to the Texas Rangers. Wednesday he changed his tune, but only slightly.
Now he'll accept a deal to either the Rangers or the Boston Red Sox, reports Ken Rosenthal of Fox Sports. This on the heels of our own Scott Miller reporting Monday that Red Sox people believed Young would approve a deal to Boston. Also, Miller is now reporting that Young would also waive his no-trade if the Yankees come calling.
Young, 36, is hitting .279/.345/.411 with 18 doubles, eight homers and 34 RBI for the Phillies this season, his first away from Texas. He's a seven-time All-Star.
The Red Sox appear ready to move forward with a combination of Brock Holt and Brandon Snyder at third base -- maybe with Will Middlebrooks back in the mix eventually -- now that Jose Iglesias was traded in order to land Jake Peavy. That is, unless they do trade for Young.
As for the Yankees, third base has been a black hole this year and it appears MLB is going to do whatever it has to in order to keep Alex Rodriguez off the field.
The Twins have already fortified the bullpen with Addison Reed, and now they want to address...

The Orioles likely want pitching, and the Indians have plenty of it

Halladay died in a November plane crash off the coast of Florida
The power-hitting outfielder is headed to Toronto

Martinez could add some power to a Boston lineup void of it

It's almost that time of the year again, time for the Tebow madness to return