Mickey Mantle's life story coming to Broadway
Mickey Mantle's sons are bringing his life story to Broadway.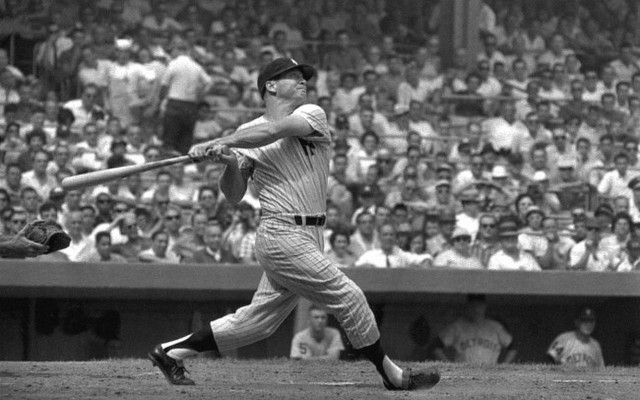 Mickey Mantle conquered the Bronx a half-century ago, and now he's moving on to Broadway. BroadwayWorld.com reports Danny and David Mantle have paired up with award-winning producer and writer David Leaf for a Broadway play about their father's life. Here is part of the announcement:
As a boy, Leaf saw Mantle play at Yankee Stadium; as a young reporter, he interviewed "The Mick" at Old-Timers Day. Leaf explains: "Mickey Mantle was my first hero. The lessons we learned from this Achilles in pinstripes, from his home-run swings and his go-for-broke misses on and off the field --- is clearly an epic tale, one that I've always wanted to explore. I'm thrilled that Danny and David Mantle are sharing their deepest memories of their dad and entrusting me to bring him to life, flaws and all, on the stage."

With the same kind of almost genetic honesty that their father displayed in the public arena, Danny and David Mantle have spent hours with David Leaf, candidly sharing the happy moments and sobering truths of what it was like to live with their dad. As David Mantle explains, "Our mom and dad were both very humble people from Oklahoma. To them, even NYC as a place was beyond any dream they could imagine. I know they would be so honored to know that the story of "The Mick" will be on stage there." Danny Mantle adds, "There has been so much written about my dad over the years. When my brother and I met David Leaf, we felt we could work with him to finally tell the real story of who our dad was as a man. Late in his life, dad spoke openly about what he felt were his shortcomings when it came to our family. The truth is, he gave so much more to all of us than what he, or anyone else, gave him credit for. Now is our chance."
Mantle, who died in 1995 at the age of 63, was just as famous for his off-the-field lifestyle as he was for what he did on the field. The Mick was an alcoholic and a hard-partier, but he was also one of the greatest players who ever lived. The seven-time World Series champion and three-time MVP ranks first all-time among switch-hitters in HR (536), OPS (.977), OPS+ (172) and WAR (105.5).
I'm not good with faces, so don't ask me who I think should play Mantle in the show. If you have any good suggestions, let us know in the comments.
(h/t Big League Stew)
For more baseball news, rumors and analysis, follow @EyeOnBaseball on Twitter, subscribe to the RSS feed and "like" us on Facebook. Also, individually interact with us on Twitter: @MattSnyder27, @daynperry and @mikeaxisa.

Maxwell joins a growing movement across sports

The Yankees punched their ticket to the playoffs with a win over the Blue Jays on Saturday

Sabathia's stance seems to be an increasingly popular one among athletes
Plus the A's and Brewers have hope, Giancarlo goes deep again, and much more

Matt Chapman and Matt Olson give the A's hope

Despite an awful month, the Dodgers are again NL West champions