Might fiscally conservative Cardinals make run at hometown star Scherzer?
St. Louis normally doesn't go overboard for any free agents, but they probably could use another starting pitcher and it'll be interesting to see if they pursue Scherzer, a the St. Louis product.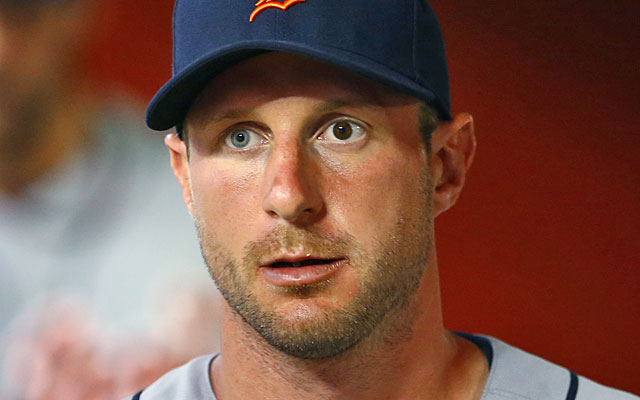 SAN DIEGO -- The Cardinals, who are somewhat surprisingly not involved in the Jon Lester sweepstakes, have apparently at least considered a pursuit of hometown star Max Scherzer.
The Cardinals met at some point on Scherzer, and word is that at least a couple of Cardinals players or former players have called Scherzer to make a pitch about the team. Scherzer, as a product of suburban Chesterfield, Mo., Parkway Central and the University of Missouri, obviously is already familiar with the town.
The Cardinals probably wouldn't be seen as a favorite for such a major free agent, as they are an oganization that's known for fiscal responsibility. With Scherzer having turned down $144 million from the Tigers in spring training and Lester likely to to top that, Scherzer's contract could approach $200 million. That doesn't necessarily sound like the Cardinals way.
There isn't necessarily expected to be a hometown discount for St. Louis, either, just as he apparently didn't have one in mind for Detroit. If anything, Scherzer might not mind spring training in Arizona as he resides in the Phoenix area in winter -- though, when a contract of this size is considered, that's not likely to be a major factor either.
The Yankees are also considering a run at Scherzer and the three losing Lester finalists would also have to be considered at least candidates to become involved for Scherzer, as well as other big-market teams. Lester is expected to make his call at the winter meetings between the Red Sox Cubs, Giants and Dodgers.
It hasn't been completely explained why St. Louis didn't have a meeting with Lester after it had been reported that there would be one. He obviously has four excellent big-market choices, and it isn't known whether he simply preferred the other places or perhaps the Cardinals weren't prepared to go where things were headed contractually.
St. Louis isn't usually a team to step out for big free agents, and its better players have generally stayed on reasonable or semi-reasonable contracts. Matt Holliday's $120 million, seven-year deal is the biggest St. Louis has signed to date, though the Cardinals offered about $200 million to keep mega star Albert Pujols before he moved to the Angels for $240 million.
Cardinals GM John Mozeliak is characteristically quiet about the potential plans.
"I like what we have," Mozeliak said about his current rotation in a brief interview at the winter meetings. "We're going to pay attention to the market, but right now we're not in the market."
The Cardinals have some tremendous talent in their rotation, but also a few questions. Ace Adam Wainwright is coming off an elbow cleanup and uber-talented youngster Michael Wacha was sidelined by an unususal shoulder concern for a while last season. They also traded young right-hander Shelby Miller to Atlanta for outfielder Jason Heyward, an unfortunate necessity due to the tragic death of top outfield prospect Oscar Taveras.
Mozeliak didn't profess to know anything about any recruitment calls from anyone connected to the Cardinals, and perhaps the players did it on their own. They may just sense the Cardinals could be in it.
Scherzer, 18-5 with a 3.15 ERA in 2014 and the major-league leader in both wins and strikeouts over the past three seasons, would give the Cardinals a formidable rotation, but they might instead look at James Shields, one of the other top free-agent pitchers such as Ervin Santana and Francisco Liriano, or one of many trade possibilities. Of course, local or not, Scherzer would be the most interesting one.
Mozeliak, characteristically, said, "I don't comment on free agents."
That's fair. But that doesn't mean they aren't thinking about the big free-agent pitchers, maybe especially the hometown guy.
>> Want more winter meetings? Latest updates from San Diego
CBS Sports HQ Daily Newsletter
Get the best highlights and stories - yeah, just the good stuff handpicked by our team to start your day.
Please check the opt-in box to acknowledge that you would like to subscribe.
Thanks for signing up!
Keep an eye on your inbox for the latest sports news.
Sorry!
There was an error processing your subscription.
With the benefit of hindsight, the Cardinals looked to have messed up

Samardzija had been rumored to be available

Here is everything you need to know about Sunday afternoon's Futures Game
SportsLine's Mike McClure has won over $1 million playing daily fantasy sports

From Joe Girardi to Stubby Clapp and everyone in between

Keep it right here for all of Sunday's MLB action