Miguel Cabrera and other 'best hitter in baseball' candidates
Miguel Cabrera cemented his status as the best hitter in baseball with three homers on Sunday, but who are some others in the conversation?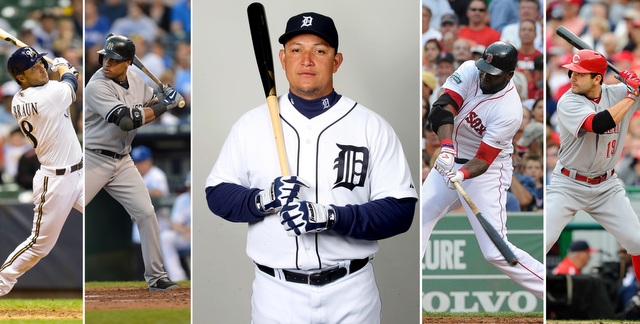 More MLB: Scoreboard | Standings | Probable Pitchers | Sortable Stats | Odds
After swatting three home runs against the Rangers on Sunday night, Miguel Cabrera of the Tigers now leads all qualified hitters in AVG (.387) while placing second in OBP (.457) and SLG (.659). He has the highest OPS (1.116) and most RBI (47) in baseball, and if you fancy sabermetrics, the highest wOBA (.471) and wRC+ (200) as well. Oh yeah, and he won the Triple Crown last year.
At this point, I have a hard time thinking someone other than the 30-year-old Cabrera is the best hitter on the planet. He's not just a great hitter, he's a historically great hitter and one of the most productive right-handed bats the game has ever seen. He's a monster and very worth of that "best hitter in baseball" tag. Who else is in that conversation though?
The way I see it, there needs to be sustained excellence to earn that "best hitter in baseball" moniker. One great season isn't enough, and even two is probably a little short. That means Paul Goldschmidt and Chris Davis are on the outside looking in right now. If you can dominate for three-plus years -- Cabrera has hit .339/.423/.609 (176 OPS+) since 2010 -- then you enter the best whatever in baseball conversation.
Here are the only five players who I think have a chance to challenging Miggy for the best hitter crown.
Bautista's case is hurt by the wrist injury that cost him a big chunk of last season, but he still hit .269/.397/.587 (163 OPS+) with an MLB-best 133 homers since the start of the 2010 season. The best hitter in baseball needs to do it all though, and a .269 AVG just won't cut it no matter how many times he goes deep.
Fairly or unfairly (unfairly in my opinion), everything Braun does will be questioned from here on out due to lingering PED allegations. Regardless of your opinion on that stuff, the record books show the 2011 NL MVP has hit .318/.386/.563 (152 OPS+) since 2010. Unlike the other guys in this post, Braun adds a speed element as well, stealing 79 bases during that time.
Cano has emerged as a legitimate MVP candidate these last three years, putting together a .310/.367/.541 (141 OPS+) line since 2010. Like Cabrera, the Yankees second baseman is supremely durable, playing the second most games in baseball (523) during that time. Cabrera is seventh (514). Cano lacks on the on-base ability to be the best hitter in baseball, however.
David Ortiz, Red Sox
It looked like Big Papi was done in 2009 (102 OPS+), but he's since rebounded to post a .301/.392/.565 (153 OPS+) batting line during the last 3-plus years. Since we're talking about best hitter only, the fact that he's a DH who contributes nothing on defense is irrelevant. Injury problems have hampered Ortiz in the last 12 months, hurting his case.
Votto is probably the best threat to Cabrera's title. The 2010 NL MVP is hitting .324/.438/.561 (166 OPS+) since 2010 with three NL OBP titles. He hits for average, he hits for power and he draws a ton of walks. Knee surgery sapped Votto's production late last year, but he's the closest thing there is to Cabrera right now, that all-around hitter who excels at everything at the plate.
Others getting consideration were Carlos Gonzalez (Rockies), Andrew McCutchen (Pirates), Prince Fielder (Tigers), Buster Posey (Giants) and -- ridiculously underrated greatness alert -- Matt Holliday (Cardinals). Fielder probably belongs in the post, ahead of Cano or Bautista. That he's on the same team as baseball's best hitter is insane.
The clubs breaks ground on Globe Life Field next week

The fan struck at Wednesday's Twins-Yankees game was hospitalized

The Yankees are almost certainly headed to the postseason as a real threat to win the World...
They still would much rather grab the AL East, however

Sale becomes the first AL pitcher to reach 300 strikeouts since 1999

Steve Balboni's long-standing record of 36 has finally fallen