Miguel Cabrera gives equipment to amusingly sassy youngster
Adolescent fan in Indians gear catches Cabrera's eye, starts a fun conversation and is rewarded with Miggy swag.
Not only did an adolescent boy wearing Cleveland Indians gear make a great sweeping catch of a foul ball using his cap at Progressive Field on Tuesday night, but he also playfully engaged Detroit Tigers star Miguel Cabrera in conversation about it, so enchanting the ballplayer that he later gave the lad a bat and a pair of batting gloves. And another ball (perhaps signed?). The kid, full of sass at first, had been humbled, telling Cabrera, "Thank you," and repeatedly saying, "That's amazing."
Watch:
It was amazing, and why Cabrera -- like Andrew McCutchen of the Pirates -- is one of Major League Baseball's top stars. He appreciated not only the play the kid made, but his style. And, probably, that he was at the game at all. About the only way Cabrera could have made the prize package even better was by giving the kid a new cap.
The young man's name -- 11-year-old Dominic Opron, reports the Detroit News. 
"It's amazing. To have one of the greatest hitters almost ever … it's just amazing," said Dominic, who attended the game with a family friend, Jim Reddy, and Reddy's son, John. "It's something that I'll always remember and Miggy's one of my favorite players right now."

Dominic, wearing an Indians hat for his youth-league team, was an instant star on Twitter.

But even getting the gifts from Cabrera, Dominic had to start thinking about his next task: what to do with his newfound haul.

"I'm going to guard it with my life first — I have to get out of here first without getting it stolen," he joked. "I'm going to put it in my room and cherish it forever."
In all, it wasn't quite on the emotional level of the Andrew McCutchen-"I love you!" moment, but it still was awesome.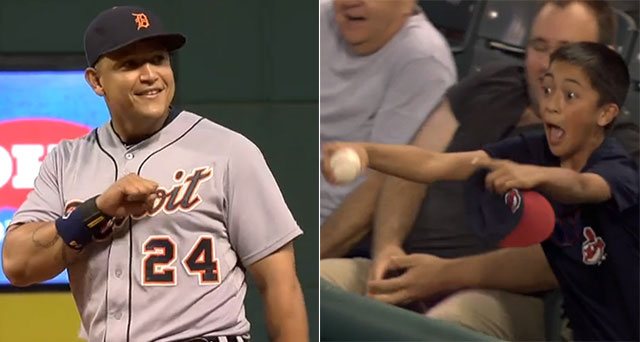 The kid technically violated the same rule that Dad Dude with the Feeding Baby violated by reaching onto the field, but since there was no play for Cabrera to make, there's no harm. And what a catch, which is one reason he started talking it up to Cabrera, standing just a few feet away on defense at first base.
As for the game, Cabrera went 2 for 5 with a run scored, and the Tigers beat the Indians 7-3 for their 11th victory in 12 games at the Progressive Jake. Cabrera won even bigger with the Indians fan. 
Gallardo spent the first eight years of his career in Milwaukee

MLB revenues are at a record high right now, but teams aren't spending it on players

Chicago added Tyler Chatwood earlier this offseason but might not be done adding to the ro...
The Dodgers and Braves pulled off a whopper on Saturday

Sabathia will reportedly spend a 10th season in the Bronx

Fowler suffered a knee injury at Chicago's Guaranteed Rate Field