Miguel Cabrera has Tigers manager Jim Leyland's back
Tigers first baseman Miguel Cabrera stole a fan's "Fire Leyland" sign. So, of course, that fan posted a video of the slugger with his sign on YouTube.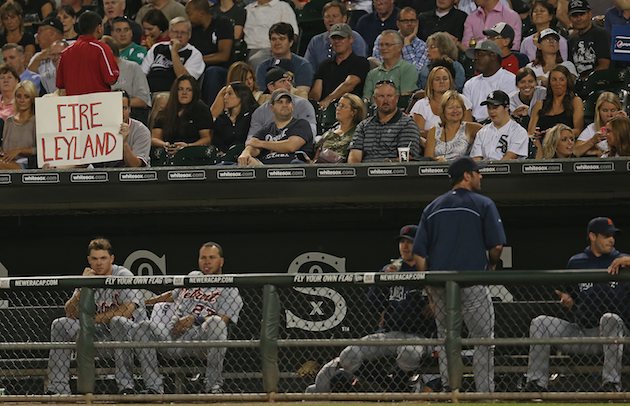 Some Tigers fans are not so happy with manager Jim Leyland. (Getty Images)
Tigers fans might have had enough of manager Jim Leyland, but at least one of his biggest stars has his back.
The photo above is from the Tigers' 8-6 victory over the White Sox on Wednesday at U.S. Cellular Field in Chicago. The video below, was uploaded to YouTube on Wednesday. Cabrera took the above sign from the fan.
A few of things:
1. This guy who posted the video has a desperate need to be noticed, so I'm glad we were able to help.
2. Good for Miguel Cabrera for continuing to sign autographs for fans. 
3. What I don't understand is, what did the fan expect Cabrera to say to his pestering? Isn't there some point where it goes from what you think is a good, valid question to the point where you realize you're just being a jerk?
4. iPhone tip: Turn the camera sideways when shooting video.
H/T: TheMajors.net
For more baseball news, rumors and analysis, follow @EyeOnBaseball on Twitter, subscribe to the RSS feed and "like" us on Facebook.
The Grapefruit League and Cactus League seasons started on Friday

Data will be collected and then used to determine whether humidors are necessary in 2019

Spring training play began on Friday, and the Stoneman Douglas tragedy was on the mind of MLB...
Baseball players forced to take pictures usually lead to fun for all of us

One of the most celebrated programs in baseball is looking to continue its run

A closer look at the teams in the Cactus League and Grapefruit League